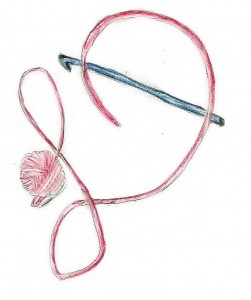 The trend of creating an argyle color pattern from variegated yarn is becoming quite popular, but it is not the only effect you can get from planned pooling. Pooling is when certain colors "stack" or "group" together from a variegated yarn, and as planned pooling might suggest, you can plan where the colors fall from the yarn and create a pattern.
Usually this argyle effect is created with yarn that has a color repeat of at least 6-18" (15-46cm) and using what some call the moss or linen stitch. This stitch is a single crochet and a chain 1, with all single crochet stitches worked in the chain-1 space the row below.
When color repeats are longer, let's say 24" (61cm) argyle may not be effective, but you can use other stitches to come up with various patterns. My Planned Pooling Scarf that has just been released by Red Heart Yarn, is worked in a longer color repeats, using a V stitch (a double crochet, chain 1, double crochet) worked in the chain-1 space of the V stitch of the row below. The V stitch uses more yarn then the "moss stitch" and the chain works to help give a little flexibility in getting the color placed in the correct place. (Marly Bird offers great tips in getting the yarn to pool in her video, here).
The Neon Stripes color of Red Heart Super Saver offers a really great opportunity to create this large stitch color pattern. I have also seen this yarn worked up in a pooled pattern with shell stitches, and popcorn stitches. It creates a similar color effect, but a definitely different texture.
This design creates a fabric that is a bit lighter than the argyle, which makes for a nice drape, and the color play makes for a very fun flair. The fringe gives it a classic feel, while the pooling is quite modern. Hope you feel inspired to give it a try.