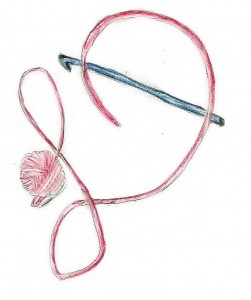 I should place a disclaimer that I really love this yarn. Blue Heron Rayon Metallic is one that I am always drawn to. I'm not sure if it is the colors, the shimmer, or the feel (which is luxurious), but I am constantly drawn to this yarn.
The yarn consist of 85% rayon and 15%metallic, with a generous yardage of 550yrds in an 8oz skein and considered a light weight.
I have used this yarn is a couple of projects, and will admit, this is one of those "special occasion" yarns, as it is not at the lowest price point. However with the generous yardage, it really can go quite far, and even one skein (depending on the pattern) can make a small wrap. I might be slightly partial to this yarn as it was featured in one of my favorite designs, my Vineyard at Dawn Shawl (pattern available in the Spring 2013 issue of Crochet! Magazine). This shawl won me my first design competition award, and I have completely attributed it to the yarn.
The rayon does not really hold much heat, and doesn't wick water so it is almost the complete opposite qualities of a wool yarn. Really the only similarity might be that they are both yarn. Rayon Metallic has a great drape, very much like 100% silk, but it is this that can cause a slight headache. Some find that the yarn can drift and slink a little when being used, not so much in crochet stitches, but in knitting, and in pulling it from a pull ball.
The yarn is hand dyed and every color I have seen is stunning. The metallic composition can be either of gold or silver color, and is often a compliment of the dyed colors. This metallic adds a very subtle sparkle, really almost like a shimmer, to the yarn, which is not at all distracting but makes the yarn look as luxurious as it feels.
I recommend this yarn for shawls, or tops. It may not be structured enough for a hat or gloves, but can easily work up a gorgeous scarf or cowl.