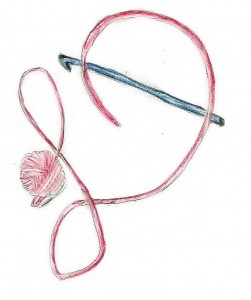 One of the saddest things is walking into a thrift store and finding a crochet item. Some feel it is a great find, but I have to say, it leaves me a little disheartened to see all this hard, handmade work, mixed in with second clothes, puzzles that may be missing pieces, and worn toys. So how about a second life for some items.
Doilies are items that I do not usually make for myself. I long discovered that the length of time it takes to make a doily is about the same it takes for me to make an afghan, and I feel like I can see greater process in working an afghan. So when I see doilies I make sure and give them a new purpose.
Now I do not actually have them placed on tables or adorning my dining area, but I get a little creative. One of my favorites is Snowflakes.
I have found that doilies make a great decoration for winter, I actually keep a few up in my office area year round. It is a simple enough process.
A mixture of white glue and water usually does the job of stiffening a doily. Typically you create a mixture of equal parts white glue and water, however if you want only a little stiffness (basically just making things a bit firmer) add more water, and if you want things even more firm decrease the water. Now dip the doily in the solution ensuring that it is completely covered in the mixture. Remove any solution excess so that there is no liquid puddling. Place the doily on either a piece of wax paper, aluminum foil, or other non-stick surface, and block the doily. Make sure that it is placed in the manner you wish for its final appearance and let dry.
Now simply tack you snowflake up in the window or wall, a mirror or frame. I find this as a great way to highlight the beautiful art and craftsmanship that has gone into its creation without relegating these pieces of art to a drawer.