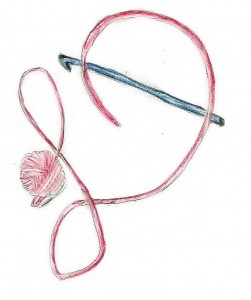 My 9 year old daughter has taken up sewing, and recently I showed her how to make a crazy quilt by simply putting scrap fabrics together and sewing them upon each other and stitching them together. This gave me an idea, could you create a crazy afghan?
So I have begun grabbing swatches from my stack. I have quite a pile of swatches, as essentially my work as a designer requires me to understand what the yarn will do, and create new ideas with it, so I make a lot of different sized crochet fabric pieces. They are not all square, but most at least have a couple of straight edges. I just started to single crochet the pieces together, and have found that it is quite therapeutic, and relaxing. I am not worried about creating something perfectly square, I can always add stitches to uneven areas to make it more usable, and adding an edging on anything makes it looks like you intended to it.
I don't know where this afghan will end up. Maybe I will add it to my automobile "emergency kit", this is a "kit" that I have modified over the years and it is not for your typical emergencies, it is for those last minute opportunities. Having a throw in the car makes it easy to stay warm when someone else in the vehicle likes the air conditioning colder then I prefer. It is a pillow for long road trips, as well as being perfect for a spur of the moment picnic. It also has practical use, living in a region that can get a sudden mountain snow storm, you may be stuck in your car at some point was you await safer driving conditions.
I have been finding this project more enjoyable then I thought I would and may have to create a crazy handbag in the same fashion…oh, the ideas….