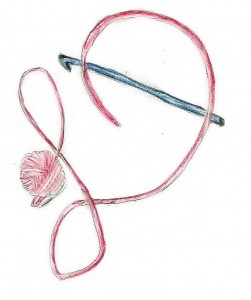 Crochet and time have interesting effects for me. I have spoken before about how crochet traps memories and such (you can read that here), but designing can also be a bit of a time travel. I can be commissioned to create a design for a yarn company or magazine and after it is finished I have to wait months to see how everything finally comes out.
After waiting what seems like forever, I am finally able to share the Camac! This is a long cardigan or coat, depending on your leaning, that really lends itself to style and comfort. It is mid-thigh length and worked in as seamless as possible, needing only seam the shoulders and sleeves, the body is worked as one piece.
The simple stitch pattern really allows the yarn to make some dazzling affects as it shines as the hero. This design is created in Manos del Uruguay Gloria, a soft superwash Merino medium weight yarn, which is a dream to work with. It has nice stitch definition and has a great variety of colors (my sample is in colorway Malaquita)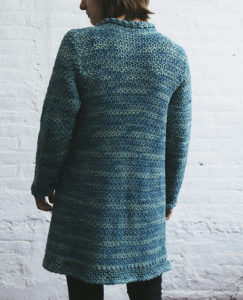 There is a simple turned edge boarding this entire coat that is actually the same stitch pattern as the rest of the fabric but uses a much larger hook to create a contrast in the fabric. The change in the hook size causes a tension between the two fabrics and this causes the edge to curl. I think it adds a simple yet endearing quality to this design.
Honestly I love the mid-thigh length, it offers a wrap yourself up in it kind of feel, that warms my heart has well as keeps me warm. I tend to find that sweaters designed to hit the waist area makes me look a bit shorter while a longer length helps elongate my appearance, so I tend to lean this way a bit in my designing. If for some reason you want to make this design shorter for your liking, simply finish the row rep for the Body section a few rows early.
It is nice to finally see the end product of your work, it is usually always worth the wait (you can check it out here).
Photos courtesy of Fairmount Fibers.