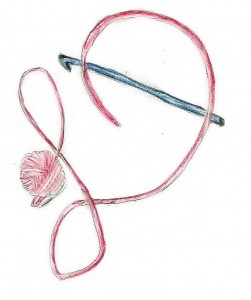 People can be a bit surprised at how long it can take for a design to become a pattern, even when you are self-publishing. In some cases it can take up to a year; there is the design process that has you working out all the bugs, then writing the pattern and stitching the item (or maybe you stitch it first then write up the pattern), then you send it for review with a Technical editor to make sure that everything makes sense and can be understood (not everyone does this step, but it definitively makes a difference). Then it is into the world of photography, and lay out…then it is ready to upload and announce its introduction into the world. Did I mention that this happens while you are juggling any other contracts you may have in place? Or juggle the needs of your family? Or still attempting to create new ideas? Yes, it can take time.
That is a bit of the history of Interrupted. The name may be a bit foretelling in its journey to being born into the world.  This design is another of my "Two in One", meaning you get both a knit and a crochet version in the same pattern almost like a little bit of "something for everyone". It actually got its name from the drop stitches that break the solid fabric pattern to create an airy feel. Both patterns are worked from the small point of a triangle outward, this makes for a great pattern that you can just use along with your yarn and end it when you think the size if correct for you.
The solid fabric has a bit of texture, and that is the first thing people comment about them. The texture looks much more difficult than it is to execute, but when paired with dropped stitches it has a contrast that really highlights the textural differences. Check this design out for your self at either Craftsy or Ravelry.
Once again this design is pair with a Lickin Flames shawl pin, and Lisa Souza Yarn (Baby Alpaca Silk Petite…1 skein)…I love coming up with these one skein projects, and working with these two companies is always a joy. It really helps that they are such nice people, if you haven't checked out their work, I really recommend it.