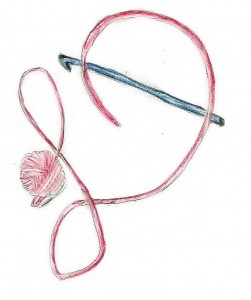 As winter is gripping part of North America and the arctic chill is setting in Manos del Uruguay released my latest pattern, which is perfect to keep warm! Shurs is a cowl that is just the right size, long enough to be wrapped twice for extra warmth and coverage, yet still short enough that wearing it unwrapped has a perfect amount of drape for a classic look.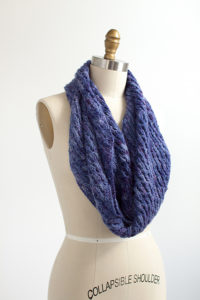 It is worked in what I refer to as a "cross-hatch" pattern. So, cross-hatch is actually an artist term the is comprised of short strokes made usually by pencil or charcoal that then has short strokes crossing in the opposite direction to create the shading and depth of the drawing. Almost like little "x"s that create an image.
I have worked this cowl similarly, with each row crossing the opposite direction of the last. It allows for an interesting visual effect, as you can catch glimpses of the stitches behind each other, but it also adds in a nice amount of stretch.
In addition to the "crossed" appearance, the stitches begin to stack up and give a very diagonal look, without having any increasing or decreasing stitches being worked. Instead this is a simple 2 row repeat, so it is a design that you can work rather quickly and easily, even for a crocheter that may not be completely confident in their work.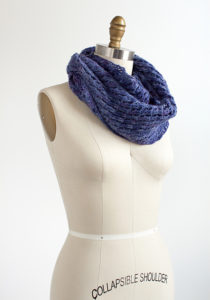 It is worked in Manos del Uruguay Clara, a yarn that is 100% superwash merino (meaning that it is a wool that is treated so that it does not felt, or shrink, but has all the great properties of wool like warmth and durability). It is a hand dyed sport weight yarn, that has a nice amount of spring to it while still having a nice stable yarn.
So, consider a quick project to keep warm this cold season, Shurs I feel is a good choice for this project.
Photos courtesy Fairmount Fibers, Ltd.