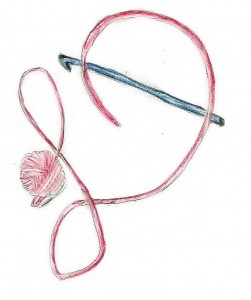 I do not often do reviews. This has been a personal issue for me, as I don't want to feel like I am just "hocking" items and adding an endorsement to everything in the hopes of gaining more followers or the like. I want to actually mean what I say and have those that read my work realize that I am taking caution in sharing my views. I know I could share negative thoughts in a review, but really I would prefer if I couldn't say something nice, that I not say anything at all. So I am selective.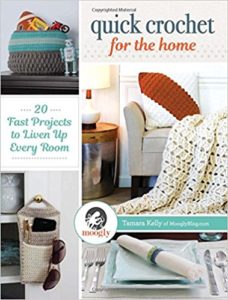 When I was asked if I would be interested in reviewing the first book written by Tamara Kelly, aka Mooglyblog.com, I was flattered, but a bit apprehensive. I consider Tamara a friend, so it doubly feels like I cannot say anything negative, especially about her first book. Fortunately, after reading through it I can easily stay to my "moral high ground" of endorsements, as the book is really very nice and well done.
The book, Quick Crochet for Home, honestly would not have been the first book I would have considered for my bookshelf. This is because I have done so many home décor projects over the years that I thought I couldn't find any that would inspire me anymore, I was wrong. Tamara applies some techniques in ways that I had not considered before and helped me to look at home décor with fresh eyes.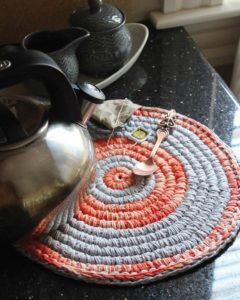 When checking out the Around the Table Trivet I was surprised that there was no cording listed in the materials, as looking at the photo images it appeared that the rounds were well padded, then I noticed that there was not spiral effect of the rounds. The genius of the pattern has one round worked over the adjacent round! So there is not obvious join, and it creates its own padding…genius! It is one of those, why didn't I think of that moments.
Then her Chevron Cuddles Blanket takes the challenge of the increase and decrease stitches out of the famous crochet design of zig zags, and worked the design side to side carrying different colors instead of working each color as a separate row. This has some definite benefits, such as being easier of newer crocheters, and allowing you to really envision how the colors come together well before you have finished the project. You only have to know how to double crochet, and change colors…it is that simple, yet looks much more challenging.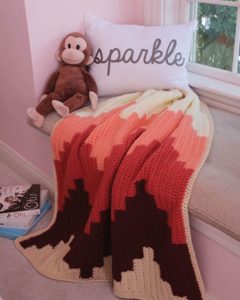 I also found that the book was well presented, layout well, offered well written patterns and charts. Another bonus, it has photography that actually helped you understand the project, not just look really pretty.
I found inspiration in several of the other designs as well, but I am pleasantly surprised at how much I enjoyed going through this book. There is a little something for everyone, there are patterns that you will easily work over and over again, as well as others that might only wait for the perfect moment. Tamara shares several different original ideas in her approach to her designs, and I am sure that you will find something that you will create.
As an added bonus, I have the opportunity to GIVE AWAY a FREE copy of Quick Crochet for the Home by Tamara Kelly, to one lucky reader! Simply leave a comment telling me what your favorite item is to crochet…whether it be home décor or something else, by midnight Friday, September 1, 2017. The following day one comment will be selected at random to choose the winner.