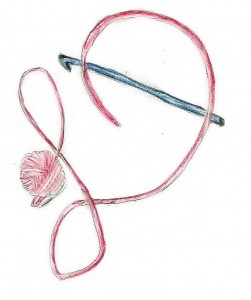 Yes, knitting. It is not my forte, however I do have some knitting items to share with you from the Marly Bird Designer Dinner, as this dinner is for all kinds of fiber designers not just crocheters. (If you want to read about my relationship to knitting, I share it here.)
Since I am not a knitter I am not able to give a thorough review of the needles, but I can pass along what others have told me. First I have heard nothing but good things about the Knitter's Pride Nova Platina FC 24" circular needles (US 5/3.75mm, 24"/60cm). I have heard that they are smooth to use and that the joins at almost seamless. I know that this helps them move the loops along well and helps speed up your knitting. Others have commented that the tips are sharp, I know that this helps you pick up the new loops. So overall I have sounds like these are worth checking out.
The Bamboo Needles from Clover are another that I have heard good things about. The needles are US8/5mm, 9"/23cm, and feel great in the hand (or so I have been told). I also understand that they give very consistent work and that many find them reliable.
I will admit that stitch markers are something that I know almost less about then needles. Don't get me wrong, when I crochet I occasionally use stitch markers, usually working in the round and marking the beginning of the round. But to be honest, I usually just use a safety pin of a string of yarn. In crochet we have to make sure that the stitch markers are removable or instead they become beads. However almost every knitter I know has a wide assortment of styles of stitch markers, some are just basic rings, but others are almost like jewelry. The Purrfectly Catchy Designs by Chappy are stitch markers that qualify as the latter. Beautiful beads adorn twists of colored metal wire to create a marker that I could imagine as earrings.
Now at least yarn I have a little knowledge about. Red Heart shared a skein of Sparkle Soft in the goody bag from the dinner, and I must say if feels nice in the hand. The metallic thread twisted in it is not evenly plied, meaning that it is not evenly spaced in its appearance on this medium weight yarn, creating a more random and natural spacing for the shine. I could easily see this worked up as a nice accessory; a hat, a scarf, maybe even gloves.
Brown Sheep Company is another yarn company with the lasting of longevity, and they are sharing a skein of Lambs Pride Super Wash Sport. This light weight 100% wool yarn has an even hand, and is definitely a go-to yarn for consistency and reliability. I can easily see this yarn worked up as a sweater, gloves, and maybe even some home accessories.
I would love to know your thoughts on knitting needles and yarn (yes, even learning more about knitting, I believe will help my crocheting, even if it is not a skill I have mastered).
If you would like to enjoy these 5 items yourself, please leave a comment about your knitting thoughts on this post by the end Wednesday, July 21, 2015. One lucky comment will be chosen at random the following day, and announced via my Facebook page and Twitter.