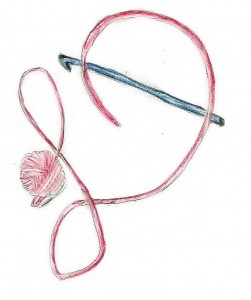 I really enjoy when I have a design that looks fashionable and creative, and more difficult than it actually is to construct. The Dare to Flair Toddlers Dress fits this description. It can be found in the June 2017 issue of I Like Crochet Magazine, and dependent upon the size you make, uses no more than 2 skeins of Lisa Souza Dyeworks Hardtwist yarn.
This girls dress worked in Tunisian Simple stitch is comprised of strips, so you make only rectangles and triangles, these are put together with Reverse Single Crochet, to add an almost rope like edging between all the panels and the edging. I love how this dress allows even a relative beginner complete a project that shines like an advanced piece.
The pattern is sized for a 2T through a girl size 8, and can easily be customized. Add length by making the rectangles longer, add width by making rectangles wider. You may need to make some adjustments on the triangles, but this will depend upon where you want the flair to begin, at the waist, at the thigh, maybe at the hip.
I enjoy the versatility that this dress has, and how it really allows variegated yarn to color pool in a way more like knitting. This design would also be fun worked in color blocks, meaning working different panels different colors and joined together.
Whenever I design clothes for kids, I always try to make it something that they can be successful getting dressed in themselves. So the piece has not really front of back, hence no way to put it on backwards. If it gets turned inside out, the fabric on the inside is just as pretty as the outside. Pair it with legging, or length it for a full dress effect. Ever little girl will want to wear this dress.