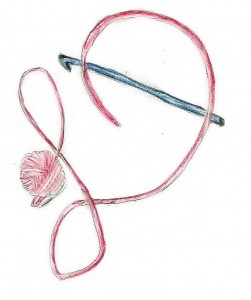 If you would have told me a couple of years ago that I would be a crochet designer, published in several well-known magazines worldwide, I would have thought you were crazy. Then if you added to that, that I would be teaching on the National Stage at conferences, I would have asked for you to check what was in your water. I never would have seen this is the future journey that I would have been on. After all I was working in a support position for social works in cafe of the elderly. I found my job rewarding, knowing that I was making a daily difference in the lives of people in my community.
Well, changes in the structure of my job, as well as the needs of my young kids helped me envision a new path. I still have to pinch myself at times to realize that I really have accomplished these things, and that I am teaching again this year at the Crochet Guild of America's annual Chainlink Conference, this year July 26-29, 2017 in Chicago.
I am teaching some classes you may not have expected. I am teaching how to Needle Felt your motifs directly onto fabric, allowing you to take your crochet into an entirely new direction with no sewing required! Barbed needles are great tools that can be used to create some fabulous projects, but using it with crochet is a direction that you may not have explored, until now.
I am also teaching Convert It! This is a class that will overload you with information about how to take your favorite knit design and recreate it in crochet. Learn what drives you to choose your pattern, and then understand how to dismantle it and put it together for the exact look you want, while learning and understanding the basic differences between knitting and crochet and how to use the strength and weakness of each to complement each other.
What the Pattern Does Not Tell You covers all the things that designers, writers, and publishers assume you already know. There are many simple things that can get overlooked in the writing, but can really make a complete difference in the outcome of your success. Don't let the lack of this information hold your crochet back.
While teaching Re-Invented Broomstick Lace, I have learned so much myself. People have an idea of the basics of Broomstick lace, but there are so many possibilities. This class offers inspiration in how to use this stitch to create stunning fabrics that will leave everyone asking how you did that. It can be your secret, and hopefully you will get inspired to invent even more new approaches to this lace technique.
It will be a fun couple of days in Chicago, and if you can join me it would be great to see you. I don't know what crazy adventure I will be on in the next couple of years, but I have learned, NEVER, rule out anything!