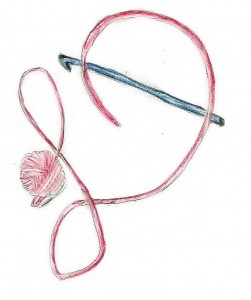 It is a bit amazing all the accomplishments my crochet students have made. This last week at the El Dorado County fair in Placerville, CA they were awarded Best of Show, several Blue ribbons, and even swept entire categories. I am proud of each and every one of them, even those that did not enter.
Thinking back over the several years of teaching, I can remember my first student, and the lessons I learned from her. I live in a smallish community, and am multiple generations within it. I don't look too hard for additional family as I probably have more relations or connections then one person really needs in life. So when my kindergarten age son began taking art lessons after school, it was not much of stretch when I found out the teacher was a cousin. Technically she was married to my second cousin, but why get to technical.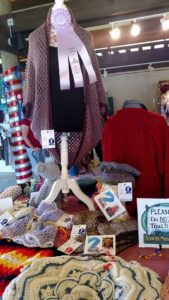 My son took lessons all year and over the summer she invited him to her home to continue. During conversations over these lesson she learned that I had successfully completed the Crochet Guild of America's Masters of Advanced Stitches and Techniques program.  As a result she requested that I teach her to crochet in trade for payment for the art lessons. I know that part of the reason she wanted me to teach her was to have more discussions, and help her gain insight into the childhood of her husband as he is a quiet man that doesn't speak much on this topic.
She took lessons from me for about a year, encouraging me to attend the CGOA annual conference, which ended up launching my crochet career. She encouraged me to begin teaching at a local coffee shop, which I did for 4 years…one night a week with drop in lessons, until the shop moved twenty minutes away, now I teach regularly at my local yarn store as well as at national conferences and events. She was a support, she helped add a new spark to my life.
She passed away a few years later, only months after her pancreatic cancer diagnosis, but I remember well the lessons I learned from our crochet time, the class is about more than just the stitches. It is about the relationships, it is about the community, it is about the stories, and it is about sharing the confidence of your own ability and fostering confidence to grow in others. My current students may not realize how my teaching style was built, but they continue to help me remember the important lessons every time we meet. Thank you for the early education Judy, it will forever be with me.