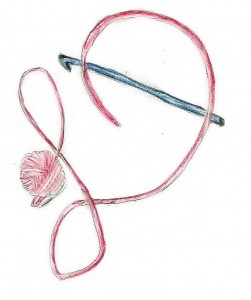 This last week I had the opportunity to spend some tie at a knitting workshop. The Hangtown Fibers Guild, my local non-denominational Fiber Guild that has to be given credit for all the encouragement and support of my entering the Crochet Industry, was hosting Lucy Neatby for a day long workshop on a variety of knitting techniques. I helped arrange the workshop, and in handling the support I was able to glean some information from the beginning of the day.
The technique that made me smile was the knitters Provisional Cast On. Casting on is how a knit project begins, it is how to add loops to the needle, and there are various ways to do this. The traditional Provisional Cast On, begins with a crochet chain, and then loops are pulled through the chains, much like the beginning of Tunisian Crochet. During this workshop a variation of this technique was taught, essentially it is crocheting over the knitting needle.
I had an ever widening grin, as this is a skill the crocheters use in all sorts of ways. This is a technique that has been used to cover clothes hangers, to create bracelets, to make rugs. It is a simple part of a crocheters skills, and here it has another use in the world of knitting.
The basic of this skill is to simply have a loop on your hook, and with the object you want to crochet over in front of the working yarn, you move your hook to yarn over and pull a loop over the item. At this point you can pull through the loop on your hook (a chain stitch) or yarn over and pull through both loops (a single crochet US, or double crochet UK).
Recently I have used this technique to crochet over mason canning rings with green yarn, to create wreath ornaments for the holiday season.
Every skill we learn is an additional tool we have, to grow in all the arts.