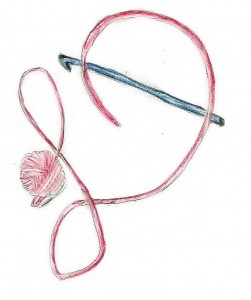 It is easy to shy away from yarns that have "Sock" anywhere in its name, or on its label, after all a few crocheters work up socks, but not most. However the name really should not place a limit on its possibilities.
Sock yarn is typically a lighter weight, either a fine or lace weight and sometimes even a light weight. By weight I am meaning the diameter of the strand, the smaller the diameter the skinnier the yarn, the smaller the weight. Some yarns will identify this on a numbering system, in which case sock yarn can range from a number 1-3, with a number 2 being the most common.
I have been playing with Diamond Luxury Soxy Lady, which is comprised of 60% superwash wool, 20% alpaca, and 20% nylon, with a generous yardage of 437yrd/400m/100g per hank. It is soft in the hand and creates a nice stitch definition. It has a bit of springiness yet not enough to compete with the openness of lace work.
There can be a benefit to working with a sock yarn, especially if you are not use to using "luxury" yarns. One of the most obvious benefits is price. Price per yarn makes this a very economical value. In some cases you can make a complete shawl from a hank or two of sock yarn, and feel like you have created something of heirloom quality.
Another benefit is that it is usually created with some durable fibers. Often the fibers will be machine washable, such as superwashed or boiled wools, making lit more family friendly and easy to care for. It usually contains a filament that gives added strength to the overall yarn construction and use, such as silk, nylon, or some polyesters. This fibers are strong and wear well, and when you ideally make socks you do not want to replace the heels all that often. So the yarn is designed to wear better and hold up longer.
Often the color variety is vast and the selection of yarn is great. Smaller yarn companies offer a sock weight yarn, and fun colors are always available. Some have short color repeats, some have long color repeats, some have muted tones, and others are vibrant. There really is a lot of selection.
The Soxy Lady by Diamond Luxury fit all the above characteristics, and I can see great possibilities for it in the future.