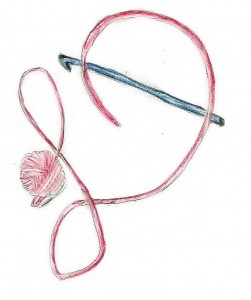 It is becoming a bit more common to find the breed of the sheep listed as the fiber content of yarns, but without some knowledge of the breed it can make it difficult to assess what to expect from the yarn, it can actually make it difficult to assess the yarn itself, as often you may not even realize that it is a wool breed.
Blue Faced Luster or Bluefaced Leicester is an English Sheep breed, and the Leicester (sometimes seen as Luster, especially in the American market) is actually a reference to a geographic location of this long fleece breed. The staple, the actual individual "hair" of the fleece, is long; anywhere from 5-18" (13-46cm), so this means that the yarn can hold together even with less "twist" then some other wool. Essentially what this means is that because the fiber is longer it does not need to be twisted as often to catch hold of other fibers, as a result they may not hold as much air being less warm as some shorter stapled fibers…but not by much as the fiber also has a fine crimp.
Wool fibers can retain heat due to air pockets. Like insulation the more "pockets" that can trap air the more it can trap heat. So when a staple is twisted with other staples the spaces between cause pockets of air. The crimp of a fiber, is how much "wave" it has. It is a zig zag effect, and the more crimp the more the fiber can create air pockets and retain heat.
The staple also has a fine micron count, this results in a soft yarn. The micron count in the diameter of an individual strand of fiber. The easiest way to think of a comparison in micron count is to think of the hair of a small child and a grown adult. The child's hair is noticeably softer then the adults, this is because its micron count is smaller, it is thinner, then the adult.
So with Bluefaced Leicester having all these qualities you can expect that the yarn will have a softness and billowiness to it, as I discovered in West Yorkshire Spinners Bluefaced Leicester Aran Prints. This yarn is true to the nature of the breed. It has a soft yet durable ply that results in a well-defined yarn that gives good stitch definition. This particular yarn has a very versatile quality and can easily create an accessory such as a scarf or hat, item for home décor or a light sweater. I think that this can easily be a go to wool yarn, which fits the build for many projects.
There is some subtle qualities of various wools, and the subtle differences in this one is not something that you will regret.