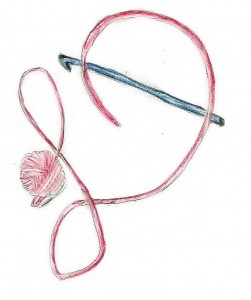 I was surprised at how soft and gentle I found Deramores Vintage Chunky yarn. It is quite lofty and works up very smoothly. I found it really pleasant to use, and would gladly pick it up again. It is not as springy as I would have thought by looking at it (yet there is a little),it is very stable and giving great stitch definition.
This yarn is half acrylic and half Merino Wool, which might explain the lack of springiness, as Merino may be known for its softness and warm, but it appears that this combination with acrylic reduces the amount of stretch that might otherwise be present. It is probably the Merino that gives this yarn its loft and airiness appearance, yet the acrylic tempers it enough that it could be worked as a home décor item, instead of the garment wear that I usually feel is better fitting for Merino.
It is a 5 ply yarn may have a slight tendency to pill after excessive wear, yet does not split when being worked. The fiber has a moderate length and this gives the yarn a slight halo, this is also caused by the ply. It allows light to be refracted offering a subtle type of sheen, that I cannot quite fond the word for.
This yarn is a medium weight and a generous 100 gram ball has 153 yards, which goes a bit further then you might first think. I would readily use it for hats and scarves, but also for pillows and afghans. As it does not have much weight for a hearty drape, I would not use if for hairpin lace, and it has a bit too much spring for broomstick lace and love knot stitches, but it will work well with most all of traditional crochet methods.