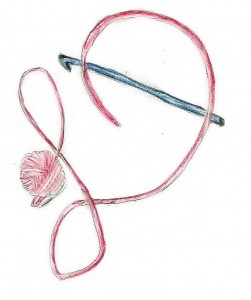 I am not sure if I have really appreciated the distraction that crochet has been to me until reflecting on this last week.
I spent 6 days in the beautiful city of Manchester, New Hampshire, for the 20th Anniversary Celebration of the Crochet Guild of America, at the Knit & Crochet Show (mark your calendars, next year it will be in San Diego, California, from July 22-26, 2015). I was taking several interesting classes, as well as moderating and teaching some groups. It was a busy week, and then I get the call from home that there is a wildfire near my home. Now with the severe drought in California right now, any murmur of fire can quickly turn into something catastrophic, and being 3000 miles from home and family does not make it any easier. Fortunately the crochet community is a very supportive one, and many people shared their well wishes, good thoughts and prayers. (Fortunately firefighters got the upper hand and my home was spared, unfortunately 19 other families lost their homes during the event, and my thoughts and prayers continue to go out to them).
But during this anxious time, I had crochet. I may not have picked up my hook as much as I normally would have, as I did not have my thoughtless project with me, but the support of all things crochet helped to keep me together.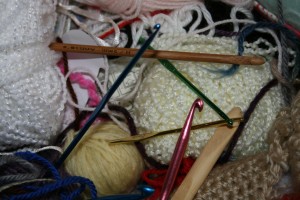 After I returned home, my sister went in for a relatively routine procedure. However there have been some complications, so once again I turn to crochet. I am anxious, as I am helpless once again to do anything, but the simple rhythm of the hook in my hand and the yarn in my fingers seems to help calm me (or at least it keeps me from stress eating).
The situation with my sister is not quite resolved, but at least I have crochet to help keep me grounded. I hope all will be well, and once my mind is a little less distracted, I will share all the wonderful and creative things that made my travels fun and enjoyable (I was not stressed out about home the entire time).