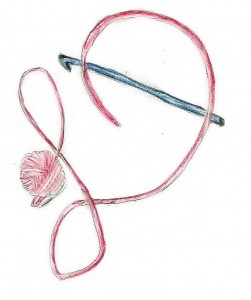 When I was a kid I never thought that I would be making a career in crochet. My college degree really has nothing to do with fiber arts, and every professional in the crochet industry that I have met, had a former life (worked in other completely unrelated fields).
For me my former life involved helping others in community service related programs through local government. Whenever I was frustrated with my job, I would get a phone call from someone that needed assistance, and I could actually give practical answers and advice that make a difference, for the better, in their life. This actually was one of the hardest transitions for me to become a designer, not feeling like I am making a difference in my community. I had to frame it for myself in a different way, I know that crochet is considered a hobby, but research is proving, what many of us have already known, that it can reduce stress. So by encouraging and supporting crochet, I was helping people to reduce stress.
However, this last week, the really meaning of crochet came home to me, and reinforced itself this morning on my walk along one of my areas various bike trails. That crochet is a lasting tribute to love, caring, and importance.
On my walk, I met an old friend. I had not seen her in a few years, and our history together dates back to my later youth. At that time she and her husband helped support me through some difficult family times as well as show me different opportunities life had to offer. Our paths separated and we met up again after I was married and beginning my family. It was at this time that I crocheted up a white lacy afghan and gave it to her as a gift, no particular reason for it, just to express my gratitude for her support in the past. After another span of time, our lives separated and didn't cross again until this morning.  In our quick couple of minutes of catching up I told her of my career change, where she turned to the friends she was with to tell them of this "beautiful afghan" I had created for her years earlier. I must admit, I almost forgot about that afghan, but after she mentioned it, it came right back to me, and her comments about it, reinforced the sentiment that had been broached to me earlier in the week; crochet is really the act of sharing a piece of yourself.
As the long time crocheter, it is easy to over look the impact of your handmade gift on another. We do not see the difference it makes in their heart, or in some cases their lives, but it does. Even in this day of technology, internet shopping, and ability to purchase just about anything, handmade still makes a difference, actually maybe even more of a difference then people realize. It does not have to be perfect, or the latest fashion trend, it just has to include the reality that you thought of someone else enough to create for them. When my friend spoke of the afghan I could see in her eyes how much that gesture meant to her, even nearly 15 years later. I can now say for certain, that I do make a difference, I may not see it, but my "hobby" shares the love in my heart, the caring in my spirit, and the importance of other in my life. Those simple stitches let others know they are special, and cared for, and that they make a difference.