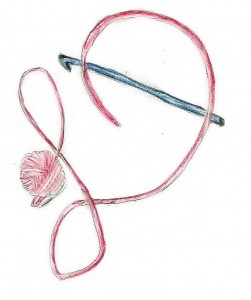 Spring is in the air; the ground is beginning to warm and release the blooms of daffodils. The days are getting longer and spending time outside is a greater joy. So it has made it a nice time to release 2 of my latest designs, they help take a little chill out of the air and dress up a casual look.
The first is the Summer Rays Drop Stitch Wrap; it is created with a simple 3 row repeat, and 1 skein of Lisa Souza Sylvie 100% Bombyx Silk yarn. The highlight of this wrap is a unique stitch that is created free hand, of long loops, a technique that was originally featured in my article in the Summer 2012 issue of Crochet! Magazine, with the Drop Stitch Short Scarf. I really enjoy this technique as it gives the appearance of hairpin lace without the loom, or the joining of strips. It is worked as one continuous piece, and when you finish, you only have 2 ends to weave in.
This pattern includes the details on how to complete this technique, and I have to say that the silk gives it such a great drape that it adds
elegance to the work.
What inspired me to put this design together was actually the yarn. I had a skein, and I made it a personal challenge to see what I could create with it, and the Drop Stitch lends itself to this non-stretch yarn very well. The openness of the stitch with the smooth surface of the yarn, allows both to be featured in a positive way with this design, creating a classic style.
The second design I am releasing is the Honorable Mention Winner of the 2013 Crochet Guild of America Design Contest, Accessories category; the Fiji Flowers on Flowers Shrug/Wrap. This is a uniquely constructed piece that is comprised of 3 large pentagon motifs created with Tunisian Crochet. These motifs create a negative space design that is enhanced with additional motifs, thus creating flowers inside of flowers. All motifs are joined as you go, requiring no sewing.
One of the original features of this design is the "floral buttons" these are added embellishments that allow the fabric to be secured together to create air sleeves of a shrug, or left unsecured for an interesting wrap. This versatile piece is also worked in Lisa Souza Sylvie 100% Bombyx Silk yarn, which has beautiful color and gives great drape to this piece. This is a fun shrug that can be paired with jeans or a simple black dress, can be a nice compliment for a day at the beach, or a night on the town. It fills a very unique niche in any wardrobe, and trust me, it is fun.
My inspiration for this design was born out of a watermark I saw in a magazine advertisement. It was a flower that was actually featured in a negative space (the space that is not the color, but the blank background), and I began daydreaming of how to create this in crochet, thus the large motifs were created. However they lacked structure and did not allow for a stable fabric, until the addition of contrasting motifs within them. This the negative space flower grow to have an addition of flowers within its petals. 
Both of these designs are available for sale on Ravelry.com or Crochetville.com for the simple price of $5. Check them out and let me know what you think of them.
Summer Rays Drop Stitch Wrap (Ravelry – Crochetville)
Fiji Flowers on Flowers Shrug/Wrap (Ravelry – Crochetville)