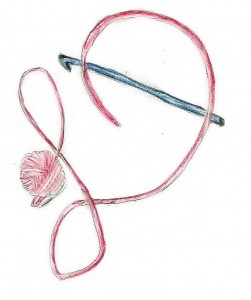 Spring is on its way, but winter is still holding on….
I was thinking of family that I have that moved to the Chicago area this year, and how they may need to find ways to keep warm, so for the holidays I made them some gloves. They came out well enough I decided to share them in a pattern.
The stitch pattern is worked in a spiral, upon a base of ribbing that makes up the cuff. Instead of making the new popular option of fingerless gloves, I went ahead and added fingers. I admit fingers seem tedious and intimidating, but I found them much easier then I first thought. They worked up quickly in the same stitch pattern and add the practicality of warmth to the project. I also left the option of having a texting glove, by not completing the thumb, but having it long enough to cover the tip.
Then the most amazing part…I still had enough yarn left in the skein to make a matching hat! I worked this design up on an alpaca yarn from Lisa Souza Dyeworks, so it feels yummy and  makes a very nice cold weather glove and hat set (at least for Chicago weather, it might be fall and spring).
This design is sized for both men and women, in the gloves and the hat, ensuring that with 1 skein you can get an entire set of matching gloves and a hat!
So far it appears that my family members are enjoying them and keeping warm. If you would like to check out this pattern it is available for sale on Ravelry and Crochetville for $5. I call the "Rice Paper Weave Glove & Hat Set", the name comes to me from the stitch pattern, and to me it reminds me of the placemats I have found at some Asian restaurants, which are woven but have great texture. The mats are probably made with bamboo but my mind keeps thinking of rice…for some reason it just seems a little more fluid.
Anyway, I hope you want to attempt to keep your fingers warm and will check out my latest design.