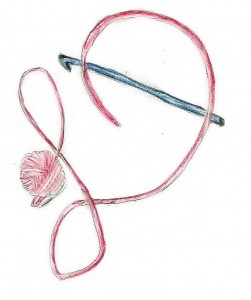 Check out my fun new design, the Quest Shawl!
This asymmetrical shawl, is one that I envisioned after meeting the yarn creator Sabrina of Anzula Yarns. Sabrina exudes a great energy, and that really comes out in all the fabulous colors of her yarn. It really is an inspiration for me, and I have a couple more designs in the works as I speak (I hope to share them soon).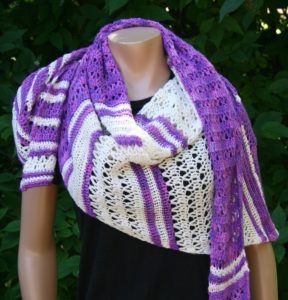 So, Quest Shawl is worked from a point with subtle increases working outward to form a triangle, in a pattern of lace stitches and textural stitches. This stitch difference is played with a contrasting color change and you have some very dramatic effects. It has a simple stitch pattern repeat, yet enough focus to keep the pattern entertaining.
The long dimensions of this shawl, a staggering 77"x45" (196×114 cm), it can lend itself to multiple ways to wear it, as well as offer a balanced feel. It was pointed out to me that this shawl actually manages to have enough length that when wearing it that the narrow point drapes evenly with a point on the opposite side. This may not seem like much, but I have noticed that smaller shawls of this type, almost feel like the narrow point can be a bit of a tail.
The yarn is Haiku, a light weight 70% Superwash Merino/20% Bamboo/10 % nylon yarn, which is really soft and luscious. I really love how it drapes, and the feel in the hand.
I have found that when I wear this shawl, that I get stopped with compliments. I usually pair it over a black dress, but even over a pair of jeans and simple top this shawl offers a look that is hard to forget.
Get your show stopper and have fun creating your own stunning look (find the pattern here).