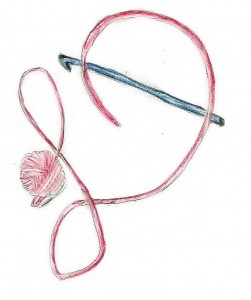 Yes, sometimes I bite off more than I can chew. I have done this in many areas of life over the years, including designing, and my latest design is one such item.
The Firelight Knit Shawl was created upon request as a sister to the crochet version. Both utilize a yarn that has little stretch or body and adorned with beads. It seems pretty straight forward, I have translated Tunisian crochet to knit before fairly successfully, but I did not account for the beads.
I learned a lot, such as how much differently beads work in knitting. I thought it would be similar to crochet, in that you work a bead in a stitch and there it will stay. Crochet has a bit more securing properties in this manner, since it twists and turns in a stitch, whereas knitting is simply a loop. This loop can allow the beads to shift a bit more when being worked, or even when it is finished…so I had to learn some improvising skills and learn more about knitting then I had originally set out to do. However I am pleasantly surprised at how happy I am with the end result.
I had to change the stitch pattern a couple of times and adjust the needle size, but in the end I created a shawl with a spider webbing effect. The edges are not completely straight, as the beads near the edge tend to drag it down a bit, but I think that adds a bit of charm to it. I worked up the sample with 6/0 size beads, and this causes a bit more of the pulling out of shape. Worked with 8/0 beads the movement would be less.
What probably attracts me most is that it has a complete shimmer and a great drape. The flowing shape really highlights the wearer. It is subtle, not attention grabbing, but once it has your attention it keeps it.