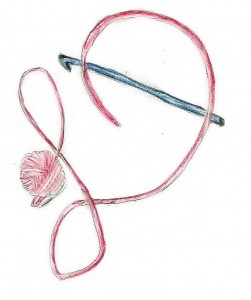 In the world of yarn there can be many really exotic fibers, but at the end of the day we all usually fall back to the most affordable and common. That is why it is a treat to come across a yarn that offers so much to a design, and can take the basic to extraordinary.
One of these extraordinary yarns is Timaru from Lisa Souza Dyeworks. It is a fingering weight yarn that is comprised of 65% Superwash Merino and 35% Rayon of Bamboo. It has a very generous 500 yards per 100 gram hanks, so it goes a long way.
The Superwash Merino ensures that this yarn is going to be soft, and can have some warmth, as well as being treated so that it does not felt or shrink. Merino is a great wool, but it is not what makes this yarn so special, in this case it is the Bamboo.
The bamboo in this yarn indicates that it is a Rayon, this means that the bamboo is made into a pulp, using the leaves, and some stem. It is ground down and added to a chemical bath to create "goo". If you ever made homemade paper, it is a little similar. This pulp is then extruded through small holes to create a long filament. Another name you can find for bamboo processed this way is Viscose.
The way it comes together in Timaru with the Superwash Merino lends itself to a yarn with a great drape. Bamboo gives a cool touch to this yarn, so it makes it very warm weather friendly. It also does not take the dye the same as the wool (a protein fiber, whereas the bamboo is a cellulous fiber), this causes a really beautiful lustrous sheen.
I can easily see this yarn worked up as a shawl, a wrap, a tank top…I even know people that love it as a sock yarn. It has a great amount of versatility without sacrificing its integrity in any project. It might actually be difficult to find a project that this yarn will not shine in.