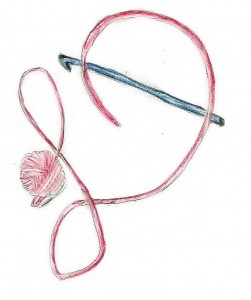 Some take one look at the pattern length of Bruges Lace and feel that it is to overwhelming to work, however once you understand the principals it really is quite easy and can create beautiful works.
Bruges Lace is essentially like a ribbon; each row is created with just a few stitches and is joined to other portions of the "ribbon" with large turning chains. It is these turning chains that create the open lacy effects that this technique can create.
One of my latest designs uses this technique, the Bruges Multi Shawl in the Summer 2015 issue of Crochet! Magazine. This shawl begins at the base of the neck and curves outward in rows that end up more like arches. The ribbon is comprised of only 5 stitches, but is also designed to create more open work.
This design was originally created as a personal challenge. I often enjoy limiting my ideas to what can be created with only one skein of yarn. This shawl was originally created that way, however it was with a different skein of yarn then what the published version is in. I made the original shawl with 1 skein of Lisa Souza Dyeworks Baby Alpaca/Silk yarn in the color of Cranilicious, and entered it in my local county fair. I do not enter my local fair for the ribbons or prizes, but more to inspire others to beauty that can be created in crochet, yet this shawl won me a "Best in Show" (my one and only).
I really enjoy the structural appearance of this shawl; it almost reminds me of old fashion iron work. This shawl almost seems weightless, yet adds just enough warmth to take the chill off. Another point I love with this design is that the front comes over the shoulders enough that it really stays on! I do not use a shawl pin or anything, I just throw it on and go, and it stays where I put it. That is something that I really enjoy.
I hope that you take up your hooks and give Bruges Lace a try, its unique construction is easier then it seems and can be quite fun. Any continuous line you can draw can be worked as a ribbon of Bruges Lace, imagine the possibilities.