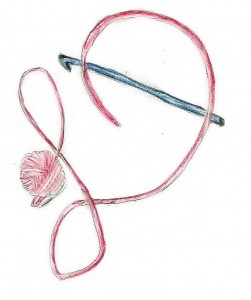 There are many ways to embellish with yarn, such as tassels and fringe, and then there is pom-poms. In my years of crocheting pom-poms have probably been my least liked of the three noted above. This is because I found they were a bit labor intensive and yarn consuming, and I could never replicate one…each looked very individual.
As a kid I understood pom-poms as short strands of yarn that were all tied together in the middle. There are supposed to be enough strands to push outward and create a sphere. I would wrap yarn around a ruler, or small book; much in the same manner I would create fringe only smaller. I attempted to tie these together to create the sphere. I found that that had a lot of trimming to do to make this item look like a ball, and this left yarn scraps everywhere. With my hand trimming no two balls ever looked alike.
I had found some other directions in books, about making cardboard rings, two that matched, and wrapping the yarn around the ring to create a pom-pom. Honestly, I never completely tried it. The cardboard I had access to was pretty light weight, as from a cereal box, and this did not lend itself well to having yarn wrapped around it. Also, I did not fully understand what the directions were asking me to do. I thought that maybe this was just one of those novelty things. As a result, I rarely made or worked with these little balls of fluff.
Recently I had a student that had purchased a pom-pom maker, and was attempting to put it to use. I was skeptical. I thought "another novelty idea", but then we played with it and all the concepts I didn't understand before came into clarity. By working over these two pieces of plastic, shaped in a ring like the cardboard directions had suggested, I understood that the two pieces were to help you cut and tie the pom-pom. The reason for the circular shape was that the yarn was evenly placed in the tie, unlike my wrap of a ruler where the yarn was more focused at a point. This rounding at the tie helped form the sphere shape, and also used a lot less yarn! By using a template, use as this tool, it is much easier to make more than one and have them come out the same size.
Having helped my student understand this tool, I gained a filling in my knowledge void, and started to think of ways I could use these balls; maybe some garland, tops of hats, edges of scarves. I must remember, never dismiss anything as a novelty until I actually understand it.