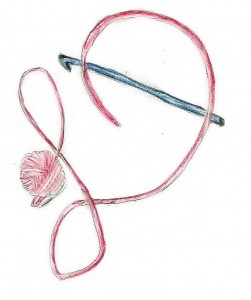 Settling back into a routine can be a bit of a challenge, but teaching at the Crochet Guild of America annual Chainlink conference is really worth the change of schedule.
This is my second year teaching at CGOA, and this year went by faster than I thought possible. I blinked and it was over.
I spent the last week of July just outside of Chicago sharing my love of crochet with other like-minded individuals. I taught 4 classes, and as there are so many great crochet instructors I vary my topics to help set me apart. This event I taught Needle Felting Applique, Converting Knitting to Crochet, Variations of Broomstick Lace and Things that the Pattern Assumes you Know. I feel like every class I teach is a test; Can I share everything in a manner that everyone will understand? Am I giving the students what they need/want/deserve/expect?
In a respect I think I gain just as much as my students from a good class, which I think each of these were. I get inspired by the work they do and the questions they ask. It helps me explore things in a different way, and I hope that helps me grow as a teacher.
This was the first conference since 2004 that the CGOA did a conference alone. In the recent past CGOA partnered with The Knitting Guild Association for the Knit & Crochet Show, this year the knitting association decided to try something different and CGOA decided to proceed on its own. As a result the show was a bit smaller but this allowed it to have everything much more inclusive, with all the class rooms in the hotel. So no trekking to a large convention center. I could leave my class room and join groups of crocheters working on their latest projects in the lobby. It was really nice.
I also had the opportunity to catch up with old friends and make a couple of new ones. It is like a battery being recharged, but recharged while it is being completely run to empty. I enjoy this show and look forward to next year in Portland, OR.