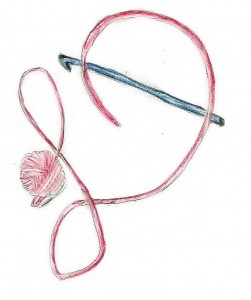 I have to admit, it is a little overwhelming, in a good way, that I have so many designs out in magazines at the same time. The latest designs out are in the Summer 2015 issue of Crochet! Magazine, and I would like to share some of my thought process of the Tunisian Swirl Skirt with you.
There is actually a lot going on in this skirt. I found myself putting some unusual concepts together for what I feel are nice results. The skirt is worked in Tunisian crochet, utilizing the Full stitch ( I discuss how I work the stitch here). This stitch is worked between the vertical bars, and when worked in flat fabric it has to be staggered in the rows. However in this skirt it is worked in the round.
Working Tunisian in the round has its own unique process, and after playing round with several different options on how to accomplish this, I utilized the Tunisian Loop Return Pass technique, that I discovered from Jennifer Hansen, the Stitch Diva (check out her demonstration here). It offers a join that does not create any open gapping, when worked in Tunisian Simple Stitch it becomes almost invisible, worked in the Tunisian Full Stitch, as in this skirt, you can find the join point, however it is much less obvious then other methods.
Another non-everyday technique that I utilized is the Clone Knot. I learned about Clone Knots from Kathy Earle at a Chain Link Conference (the Knit & Crochet Show), and use them in the lace insert panels that help create the swirl. I like how this stitch is created, I find it fun, but it also offers a nice texture, and allows an open kind of drape to a lace fabric. (I demonstrated how to complete this stitch here).
Some of the other thoughts that went into this skirt may not be as obvious. For one, I do not want a skirt to show my under garments, so I seek out a stitch and hook size that will create a fabric that will allow for modesty, the Tunisian Full Stitch fit this build. With is modesty in mind, I also ensured that the lace panels did not climb into areas that I would like to keep modest as well. So you really should not have to wear an underskirt with this design.
Another thought that went into this design was how to you get a fitted waist. Part of this is created by working top down, and increasing for the hips, as well as allowing for a drawstring closure, so you can have a more custom experience with the fit.
If you wanted to change this skirt up and make it a little more or less lacier or have more or less of a swirl. This can be accomplished by adjusting the width of the solid panels the wider the panels the less lace, the more slender the more lace. Just ensure that the number of stitches in the round before the panels is divisible by the number of panels that you want to ensure that they come out even.
I had fun putting this skirt together and growing in my understanding of crochet while doing it. I hope that you enjoy it as well.