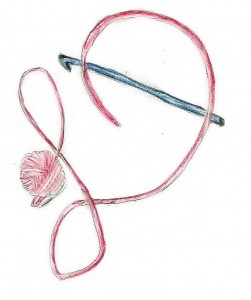 So at my home it already feels like summer. I would really like to experience spring, but I guess since winter skipped California this year that summer is due. However that only means that I can starting wishing it was fall all that much earlier!
So it makes it fitting that I am releasing a new" 2 in 1" pattern this week. Often when we see a photo of a pattern we do not think about how the yarn choice really affects the finished item, but this pattern capitalizes upon it. I had the pleasure of working with some gorgeous Erika Knight Yarns to create a scarf, Spanish Combs Scarf, which has two very different effects depending on the yarn used.
The stitch technique itself was inspired by the ornate combs that adorned the hair of women in Spain during the centuries gone by. These "combs" nestle together and form an interesting dance of positive and negative space.
The Vintage Yarn creates a scarf that has a soft drape and nice open stitch work for a smooth edged classic look, while the Maxi Yarn has a warm chunky image. The fringe gives it a very retro look (it is a version that I have already been asked to make up as holiday gifts). These two scarves essentially share the same pattern, with the only difference being the finished sizes, the materials and the gauge.
If you get the opportunity, please check it out (available at Craftsy & Ravelry), and if you have the opportunity to play with some of Erika Knights Yarn, do it. You won't be disappointed.