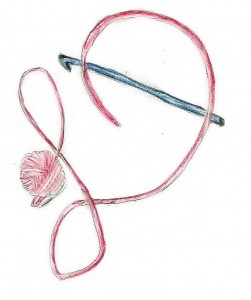 I have some fond memories of my latest design.
Sato Sugar Shawl originally entered the world at a fashion show in San Diego, at the annual Crochet Guild of America Chainlink (or otherwise referred to as the Knit & Crochet Show). I had created it from 1 skein of a new yarn from Lisa Souza Dyeworks, Aurora, and seriously just finished it on my way to the show. I hadn't even formally given it a name or anything.
I was encouraged to enter it in the annual members fashion show that happens at the banquet dinner. I agreed to model it, as I was already assisting in modeling other items for the show. I was hastily writing up its description in the back of the staging area, to be read by Ellen Gormley, editor of Crochet! Magazine. Not only was I attempting to put together a nice write up that I would have to walk on stage with, but I also had to make sure that Ellen could actually read my hand writing, which is no small feat.
I was getting input, ideas, and guidance from a wide variety of people that were modeling as well, with designer Vashti Braha giving me some excellent "romance" for the description. One of the things that struck me was a comment that Vashti made about how she had never seen the Love Knot stitch used in the way I had in this wrap. That took me back a little, as Vashti teaches classes on the Love Knot, she has researched its many ways of being made, when it was historically used and such, so to hear her mention that it was completely new to her caught me a little off guard, in a good way.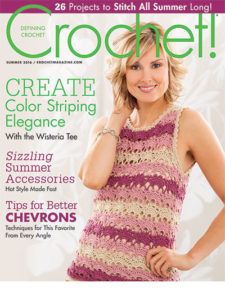 Later that night Ellen pulled me aside and said "submit it, I want it", and the Sato Sugar Wrap made its way to the pages of Crochet! Magazine for the current Spring 2016 issue. Only the yarn and color were changed for the publication, everything else remains true to the original, I think it worked up nicely in the Berroco Folio Luxe.
It is always fun to see me designs newly released, they often have some story and memory with them, maybe not as all-encompassing as this one, but still they all have stories. Much like each gift I have created over the years, the memories that I have of choosing the yarn or the pattern for "so-and-so for that event and such". The release time is often a while after I created it, so seeing the latest issue of a magazine can transport me back in time a little, bringing up memories and fostering new ideas.