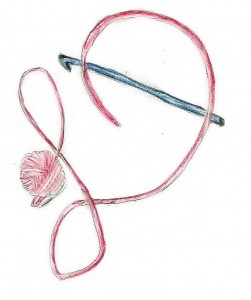 I am not much of an interior decorator. After I have chosen a paint for the walls, it will be that color forever; the furniture has found its placement, it will not move again; why change what took me forever to decide on? I guess this is either I a sign that I am completely set in my ways or too lazy to rework it, either way I am faced with times that I need a bit of different look. It is times like this that I find crochet beanies to be helpful.
I crochet many beanies throughout the year, many are given to various charities, so I have access to several colors and many textures to change the look and feel of my home décor on a very subtle way. The hats get used as pant cozies.
When I was younger I swore I would never create a cozy, after all I don't mind looking at my toaster or my toilet paper rolls, but somehow I have managed to bring some of it to life in this small way. I have found that really a beanie type hat is essentially a basket turned up side town, so it easily fits the ceramic pots my house plants rest in.
I stumbled upon this out of necessity. I found that my pots were scratching my tables, being pottery the bottoms were always a bit rough and my furniture's finish always seemed a bit soft, the pairing is not ideal. This means that I need something under my pots, perhaps a doily, a table runner, a coaster…yes, these all get utilized too. But for a little different affect, a hat. By placing a beaning over the pot I get to change to color and texture of the pot as well as saving my table surface. SO this is my subtle little visual difference in the house. It would be like putting new pillows on the couch, it gives a little new life.
As a side note, I can easily wear the hats again after a wash, so in a sense they just sever double duty now…so far, I don't think anyone has noticed.