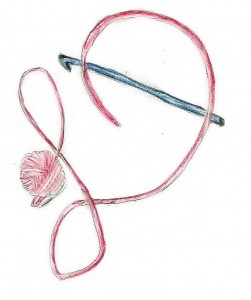 When the temperature climbs to numbers that have more than two places in them, yarn does not sound like the leisure activity that it usually is. Fortunately there are nice plant based yarns that do not trap the heat like wool or even acrylic does. Juniper Moon Farm creates one such yarn in Zooey.
Zooey is a 60% cotton, 40% linen yarn that feels cool and is durable. I have to admit, I am not always drawn to linen, but the blend with cotton in this yarn makes it softer and less stiff than I have experienced in other yarns. It can take a hardy blocking, and I recommend that you plan on blocking this yarn, it brings an entirely new quality to it. Once it takes water, which it generously absorbs, it blossoms and becomes softer. It then can really open up stitch work and make some beautiful lace work with relatively little effort.
The yarn is listed as a fine weight, also referred to as a 2 weight, but easily works up with larger than expected hooks, even if the yarn is rated for a 3.5-4.5mm (F-G) I like it on a 6mm (J) for a more open effect.
The hank has some decent yardage at 284 yards (260 meters) for a 3.5 ounces (100 gram) ball. Even has a 4 ply yarn, plied with 3 strands of linen and 1 strand of cotton, it does not seem to have a really round nature. It seems a little flat, but that is something to be expected form the fibers. The ply is not real tight, however this did not seem to cause any splitting.
I think this yarn would do well as a market bag, maybe even a cover up for the beach. That also lends me to think that it could pull off a sun hat. It really does make me think of summer projects, this might limit my creative sense, but overall I think it can have some great uses.