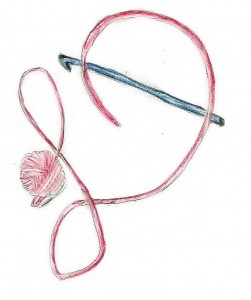 My latest design, or should I say designs, once again grew out of the challenge of a one skein project worked in both knit and crochet. Unlike some of my other knit/crochet designs, this one does not as closely resemble each other.
The visual effect of this design is really more about how the color moves around and comes together. Not really like color pooling, but more like paint on an artist canvas. So Converse Shawl is the latest addition to my design collection. (1 pattern and you get both the knit and the crochet version).
The crochet version of Converse is worked from one side to the other, or otherwise known as vertically, while the knit version is worked basically bottom to top or horizontally. Yet they both have a line of color that then runs a vertically creating this artist affect. I feel like it is this slight line, or visual break that really makes everything come together.
The skills for working either of these shawls is not advanced. The crochet version utilizes post stitches, and works what is known to many as a basket weave pattern. It features tall stiches to give an airy feel that can mimic a woven inspiration. The knit version features drop stitches that are carried over a couple of simple rows allowing the color to "drip" down.
I cannot take full credit for this design. I worked with Lisa Souza, of Lisa Souza Dyeworks to create the knit effect as a compliment to the crochet. Often I work a crochet design from the perspective of recreating a knit, this time I created the crochet and the structural technique I had for the knit would not come together properly. Lisa helped me to create a knit version that was structurally sound while still sharing the same vision of the crochet version.
I have to admit thought, that this design looks great with the featured shawl pin from Lickin Flames. It could be that hand created items, like the hand dyed yarns of Lisa Souza (of which this design is 1 skein of Baby Alpaca Silk Petite in color way Jacob's Coat), and the hand created shawl pins by Jim Atchinson of Lickin Flames just happen to enhance each other. If that is the case, great! It makes designing so much easier when the materials really work together.