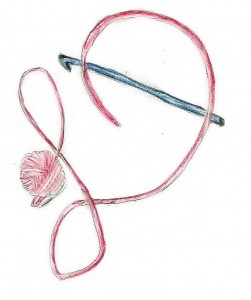 I was recently presented with a challenge, and honestly I enjoy designing this way.
Bead Biz, a great bead supply company, presented me a challenge to create a beaded ornament primarily for Easter. After some research and some playing I think I came up with a couple that fit the build pretty nicely.
At my home Easter is pretty quiet. We color eggs, finding that we love the jewel tones that come from dyeing brown eggs, then I may use the dyes to color yarns that I may have around (you can find out how to do that here). We snack on candy from baskets, may head out to an egg hunt at a local park, and generally enjoy day as a family. However doing some research into this challenge brought back some memories for me, and some of the images of egg decorations I found very fascinating. I remember as a kid, one year my mom decided to attempt some natural egg dying, using onion skins. I recall her poking pin holes on the ends of the eggs, and blowing the content, after much work, into a bowl, leaving the egg hollow. She then tied small leaves around the egg and rested it in her onion skin dye. After a great while she removed the egg and its bindings and she had a beautiful brown colored egg that had leave images. However what I remember most, is her finding the effort not entirely worth the outcome. She only did this craft once.
In designing these ornaments some of these memories joined me, so I managed to keep the overall design simple, but what I think are beautiful results. I really wanted the beads to shine, and I think I have succeeded in that. They really seem like the star of the show. I found that once I was completed with them, that I felt that I could find a place in my home for them year round. They can easily be adapted to the Christmas holiday traditions, as well as beautiful gifts to welcome a baby, a birthday, or even a hostess. They work up rather quickly, and with different bead color combinations can offer many stunning results. Each pattern actually has two designs, one for a large oval ornament, and one for a small plastic Easter egg, giving variety and additional options and inspiration.
I have both sets of patterns available on Ravery and Craftsy, and if you would like to check them out for yourself, I am offering a 20% off coupon code for all of my patterns through the end of March 2016 to celebrate National Crochet Month. So if you see anything you like at my Ravelry store, use code SW2016 and receive this discount until March 31, 2016.
If you want to learn more about using beads in your crochet? Or even your knitting? Considering attending my class "Beading 3 Ways" at the Knit & Crochet Show in Charleston, SC Saturday July 16, 2016. I am excited! It is my first time teaching at a national venue, if you happen to be able to attend, please check out my classes!