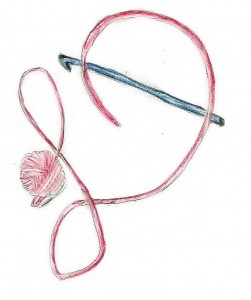 Several years ago I learned to spin yarn, indirectly this lead to my now working in crochet. However I digress, during my time spinning I visited a local alpaca farm that sold fibers for spinning. The farm was filled with those cute little teddy bear like animals that I learned were a breed called Huacaya. I only thought that these were the standard alpaca, until the farm owner showed me a fleece of another breed of alpaca, one known as Suri.
The Suri fleece was smooth and silky and in ringlets like a young Shirley Temple. It only resembled the Huacaya in size and shape…the same body but very different fleeces. I was mesmerized by the Suri, probably because it is not commonly found in the United States, and I definitely get drawn to something a bit out of the ordinary.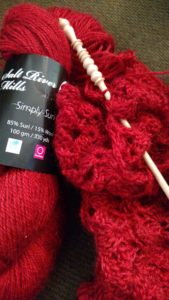 Researching a bit about these different breeds I learned that almost all alpaca yarns found are created from Huacaya fleece. Huacaya is a much more common breed in the US, and the yarn is warm and soft, really an affordable luxury. The Suri is much less common, and until recently I had not found a commercially available yarn made of this fleece.
At a trade show this summer I found Salt River Mills, Simply Suri yarn. I admit it drew me in. I was fascinated to find a Suri yarn, it is produced by the North American Suri Company that purchases fleeces from breeders across North America and is helping to create a market for this fiber.
I have been playing with a skein lately and have enjoyed how it works up in the hand. I have been using Simply Suri, an 85% Suri, 15% wool yarn. It is very common for all alpaca yarns to have a blend with wool, as wool adds a bit of structural integrity to the yarn that alpaca by itself does not have.
I have found the yarn soft and smooth, with a nice sheen that makes me think of a silk blend. It is light and airy, but it is easy to feel that it is warm as well. It has nice drape and stitch definition. It is a three ply yarn with a soft twist, that lends itself to standard stitches, however I would not personally try to much textual stitches, like cables or popcorns as the yarn does not seem strong enough to give it a bold definition. I am currently envisioning a shawl….I hope to have the pattern available soon….but this yarn will definitely have me playing with it more in the future.