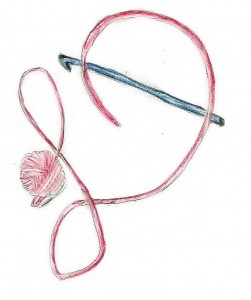 So a couple of weeks ago I told you how I really enjoy working with Designing Vashti Lotus Yarn, it got me thinking, I do have a couple of pattern examples that I could share that highlight this yarn.
The first one is from Doris Chan, and it is the DJC: Lotus Bolero. It is excellently written, from the top down, and a fun project. I can attest that the final product is very enjoyable as well. My daughter did the modeling for the girl sizes, and really adores them. (She completely mixes and matches them up with a variety of things in her wardrobe). Doris has it sized from a girl size 4 to a 3X, very impressive and flattering for anyone.
The other pattern is one that I worked up for the 20th Anniversary Celebration of the Crochet Guild of America, it is the Cented Flower. It is a small clip that is adorned with 2 flowers that have dime accents in their center. The celebration colors are White, Emerald and Platinum, so I attempted to capture them in this design. I am actually offering instructions and supplies for this design at a Make-&-Take Saturday, July 26, 2014 from 12:30-1:30pm (EST) at the Knit & Crochet Show, showroom floor. However, even if you cannot make the trip to Manchester, NH, I wanted you to be able to enjoy the pattern yourself so I have made it available here as a free download. Cented Flowers

I hope you enjoy the pattern; I would love to know your thoughts about it.