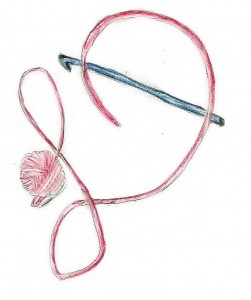 There are times when my crochet needs an awakening. I can crochet for hours on end, pick up a skein and "play", no pattern, no end goal, and still create something, it is a therapy, a routine. I create, but sometimes it just feels like the motions.
Now, please, do not misunderstand; I love crochet. I have been placing hook to yarn for many decades, and evenings when I do not have a project in hand, I feel fidgety. I cannot go to long without at least making random stitches. Crochet travels with me, I have a spare skein of yarn and extra hook pin various places, but sometimes it doesn't quite make me feel alive.
There is a simple fix for me on this, people. Getting together with others that use yarn can be such an energizing experience. It does not even have to be in person, chatting in emails, or phone calls can bring energy back to my work.
It can change a mood, and allow the spirit to soar. Looking back over my body of crochet projects, I took new directions, new types of projects, new types of yarns, after visiting with people that shared their passion. Positive spirits are contagious, and I need to remember that I need this to recharge and bring a new level of joy to my work, so it is not just work to my joy.