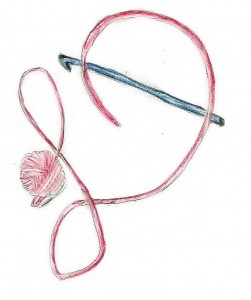 Some ideas are all about timing. Cartwheeling Filigree fits this description.
This triangle motif wrap design was envisioned a few years ago. I loved how the motif had a very floral feel, it felt so feminine. The triangle allowed me to have the "flowers" staggered, and share an openness that gives a very spring like attribute.
When I originally put this design together, the editors loved it, but it wasn't quite the fit for the magazine issue they were creating. This happened more than once, and waiting was its best thing that could have happened as it allowed Cartwheeling Filigree to grace the pages of the 15th Anniversary Edition of Crochet! Magazine (the Spring 2017 issue). In the world of current publishing 15 years is a long time, and anniversary issues attempt to make a special splash of all the favorites over the years as well as classics, so it is an honor to be included with all the other fabulous designs.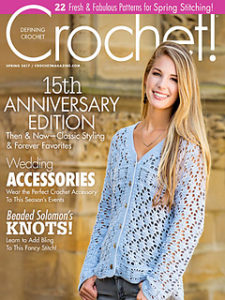 This wrap can have a very different feel if a yarn is used. It is featured in Spud & Chloe Stripey Fine yarn, it is a superfine (fingering) weight yarn that is comprised of superwash wool and silk. The wool gives it a little "springiness" and a bit of body, if it 100% silk it would have a true luxury drape.
If you are looking for something a little larger and heavier, you can increase the yarn size and the hook size to create a piece that can add warmth as well as style. While working this same design with thread can create a very enticing table cloth. Working in a solid color also presents a more classic feel.
This design has a simplicity to it that allows it to be much more than it initially appears. I hope it inspires you see how wonderful simple can be.