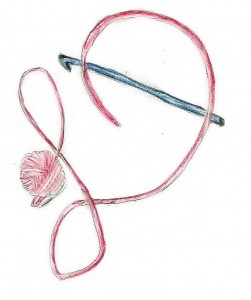 The other day, while standing in the long overdue rain, watching my son's Rugby game, I was thinking about what makes my crochet hat and gloves warmer then my denim jeans. The answer is simple, but also kind of surprising; air. The more little pockets of air that are trapped next to the skin, the warmer you can stay.
The process used in twisting the yarn and creating little knots, creates little pockets that trap air. Depending on the yarn and stitch combination, different levels of warmth can be created; this is why lace can be warmer than expected. The more things are compressed and made tight and dense, does not necessarily create a warmer fabric as it can press the air out of the work.
This is true with the yarn as well. Often it is realized that wool is warmer then bamboo, this is because of the fibers that are used. Bamboo, even though it is a plant fiber, is processed and extruded in factories creating a long smooth yarn that absorbs moisture, and thus in hot weather will keep you cooler by wicking away perspiration and allowing it to be evaporated. While the animal fibers that are utilized in wool yarns, are created naturally to keep the animal warm and dry. This is done by the crimp of the fiber itself.
Wool fibers are not like hair, they are crimped (like the fashion in hairstyles from the 1980's), it has stretch (like elastic) and it grows in clusters (a patch grows together and can be plucked out together as one group). This nature helps to create air pockets in the yarn that is being created (depending on the process used, more or less air can be trapped).
So while my woven denim might be durable it does not offer as much warmth because the amount of trapped air is limited. But that hat, made only out of single crochet ribbing and my gloves made from back loop single crochet kept me quite toasty in comparison.