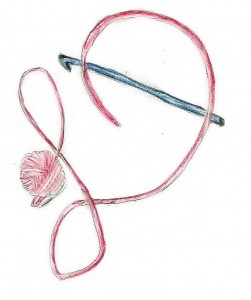 There are times when I try to make a yarn do something it is not in the mood for. I had this experience with Patons Décor.
Décor is a fairly standard type of yarn, it is 75% acrylic and 25% wool, it typically does not felt, or shrink and the skeins are a typical 208 yard/190 meters of 3.5 ounces/ 100 grams, medium weight, set up in a ready to use pull skein. But what surprised me with this yarn is its ability to spring back into shape.
I really should not have been surprised in this, I guess I really wasn't paying attention. Acrylic typically has a very strong memory, so strong that it is sometimes pointless to even attempt blocking. Some minor draw backs to acrylic is that it cannot take high heat well, so this should only be used in a low heat dryer and never be pressed or ironed. High heat caused acrylic to break down and it will lose its "life" or "body". It is often referred to as "killing acrylic" or "the acrylic was killed", and it does appeared to be killed and limp.
I have worked this yarn in an open lace approach and because of this strong memory of the acrylic yarn, it does not block to open up the stitches as well as I would have liked, or experienced with a yarn that has a higher wool content.
Even with that in mind, this is a good everyday yarn. It is pretty soft, and feels really nice
in the hand. It does a nice job of fluffing up and filling the stitch gaps, hence why it did not agree with me in lace work. I can easily use this yarn for afghans, blankets and throws. It would do well for pillows, and outerwear, like sweaters or cardigans. It has a nice array of colors and a nice durability, a nice go-to yarn.