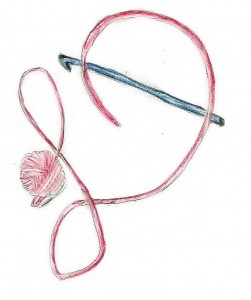 So the long days of summer are now shortening, children or headed back to school, and that can really only mean one thing…Autumn is almost here.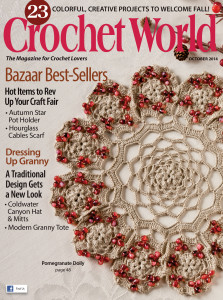 I have a couple of new designs out, that I think ring true for fall. In the October 2014 Issue of Crochet World Magazine (available digitally now, and on newsstands September 2, 2014) I have a hat, Birds Eye Border, and a Scarf, Hourglass Cables.
I enjoy both of these designs so let me tell you a little about them. The Hourglass Cable Scarf is one that is not you simple rectangle, I was playing with movement and enjoyed how this technique created an in and out effect to the edge of the fabric. I added the cables and was astonished at how fun it was, yet simple to keep track of. So the increase/decrease effect gives visual interest while the cables give great texture (while actually highlighting the curves). But using a variegated or striping yarn the details are even more highlighted, as the color shift gives an additional element of focus.
I even enjoyed this technique enough to offer a video of it through Annie's (you can find it here).
The next design is the Birds Eye Border Hat. In this design I was once again inspired by movement, I was attempting to create an open circle in the middle of a fabric, and found that I enjoyed how it edged, and though a highlight of this around the face might be nice, thus the hat was created. It has a slight air of whimsy, and can be personalized by weaving a scarf through the openings or adding bead work. It has a lot of possibilities, and yet is simple to put together.
I hope you enjoy the designs and that they encourage you to play with movement in your own work.