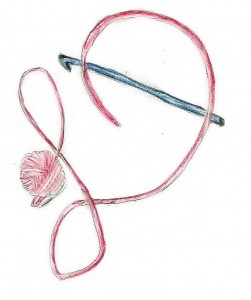 Oh, I think I found the bests of both worlds.
My family and I actually got away from the house for a couple of nights, and visited the rocky beaches of northern California. We had a wonderful time, and we happened to stumble upon a small town with a lot of charm (and great art/fiber support, there was yarn bombing everywhere!). But even that was not my light bulb moment.
I managed to actually excite my family into going into the local yarn shop, and choosing yarn for themselves; under the premise that I will create a keepsake memento to remember the trip for them. So they will get a keepsake to remember the trip, I will get to play with some fun yarns, and while stitching up their hats & mittens (items they requested) I get to remember the wonderful weekend with them. Why have I not come up with this before? Maybe because we don't get away all that often…but, I think this can become a fun tradition to go forward in our family, especially since we don't really need any more T-Shirts or coffee cups or decoration trinkets from our limited travels.
Hopefully I'll manage to get their requests done soon, so we can all enjoy the memories.