To help you celebrate National Crochet Month, I am sharing a technique to help advance your crochet skills, and including a free pattern. Today I am sharing how to work Tunisian Crochet in the Round.
First, I would like to thank Crochetville for including me in they blog tour for this month long celebration. Everyday you are introduced to a new designer, or hobbyist or teacher, to help inspire a new desire of crochet within you. Don't miss a day, check out the participants here.
What Makes this Special
Tunisian crochet is an interesting technique that produces a fabric that can look woven, or even knitted. It is worked with in a two-step process. The first step is to load up the hook with loops (Forward Pass), like casting on in knitting, the second step is working all the loops off until only one remains (Return Pass).
Here is One Option
This back and for of the two-steps, actually can make it a bit challenging to work the fabric in the round, so often it is worked flat and then seamed. However, there are a couple of different approaches to working in the round. One is to work with a double ended crochet hook, so you can load from one end and work off the loops with the other. This process works the piece in a spiral and two strands of yarn, it looks nice, but finding double ended hooks is not exactly an easy task.
The Option I like
The method I employ more is one that I discovered from Jennifer Hanson, the Stitch Diva. It is a Tunisian Loop Return Pass. It involves using a cabled Tunisian hook, and adding joining loops to the fabric while working the Return Pass. I have tweaked it a bit from what Jennifer has in her video, as it works for me. So let me share my tweaked version.
How to Make it Work
After you have completed the Forward Pass of a Round, fold the cable of the hook so that the end is next to the hook, the next step for a return pass is to now yarn over and pull through a loop, you will still do this step but you wrap the yarn around the cable as you are yarning over. Basically I have the cable laying adjacent to the hook so that when I yarn over, the yarn is coming over the cable as well, and then I pull through 1 loop.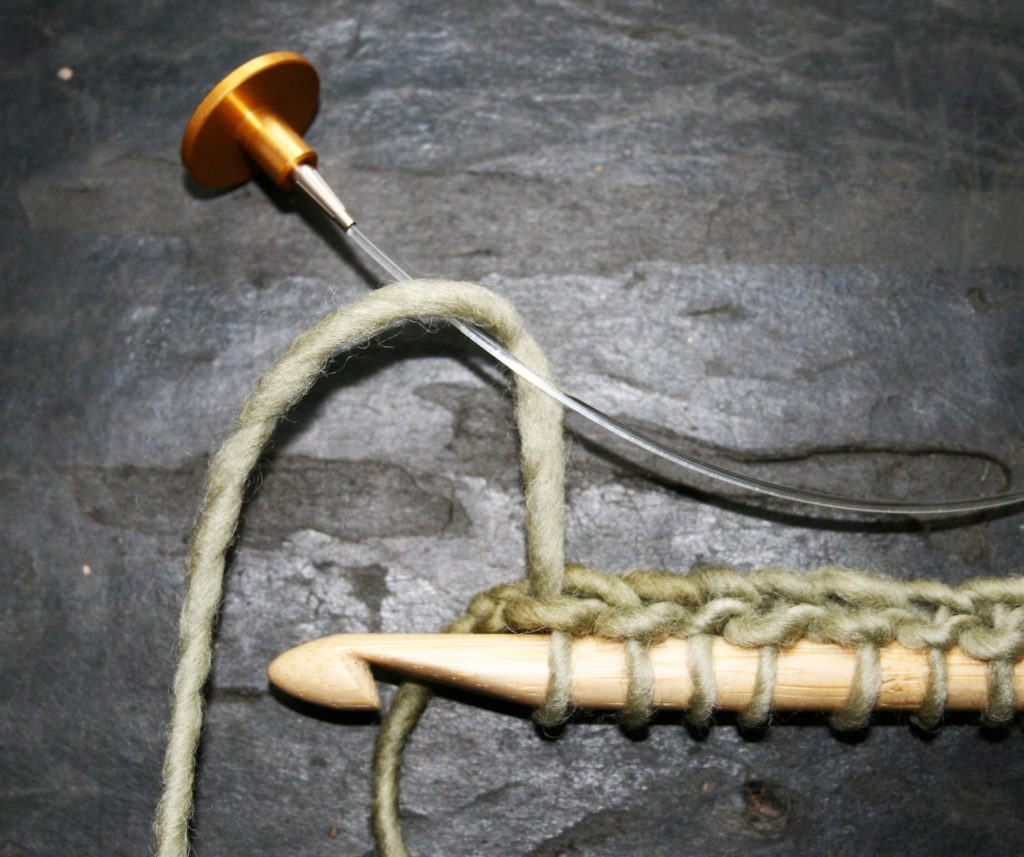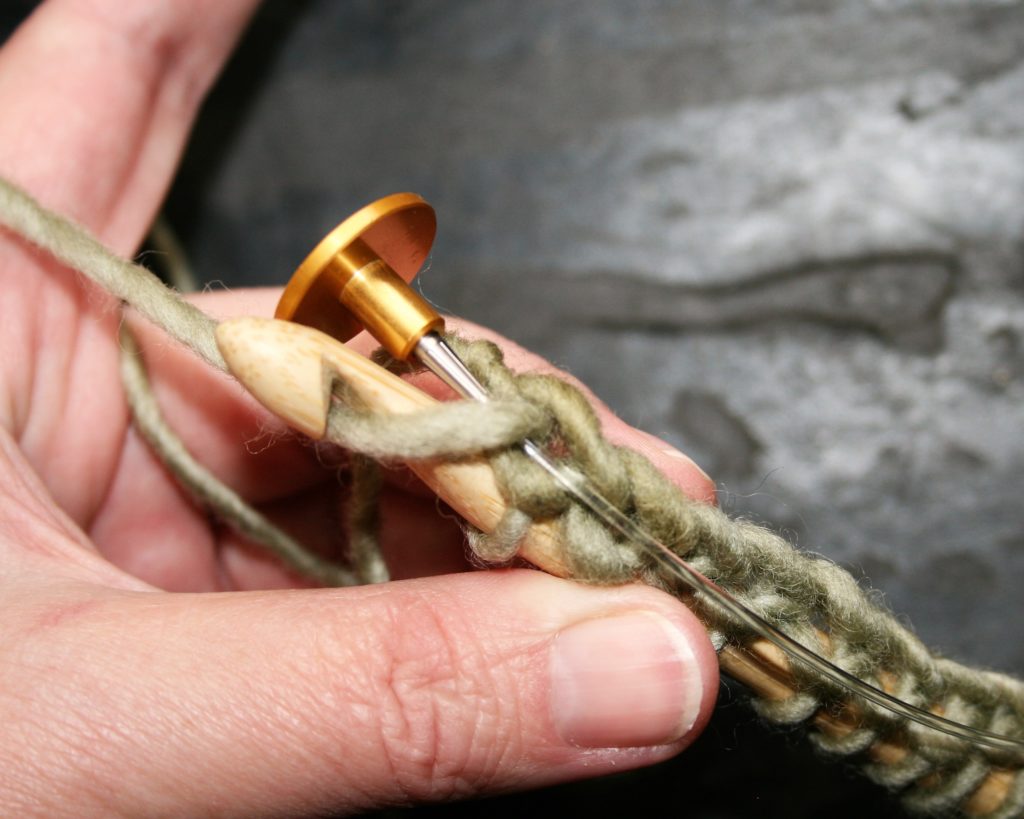 Keeping the cable laying adjacent to the hook still, I now yarn over and pull through 2 loops. At this point I have just added 2 loops to the end of the cable.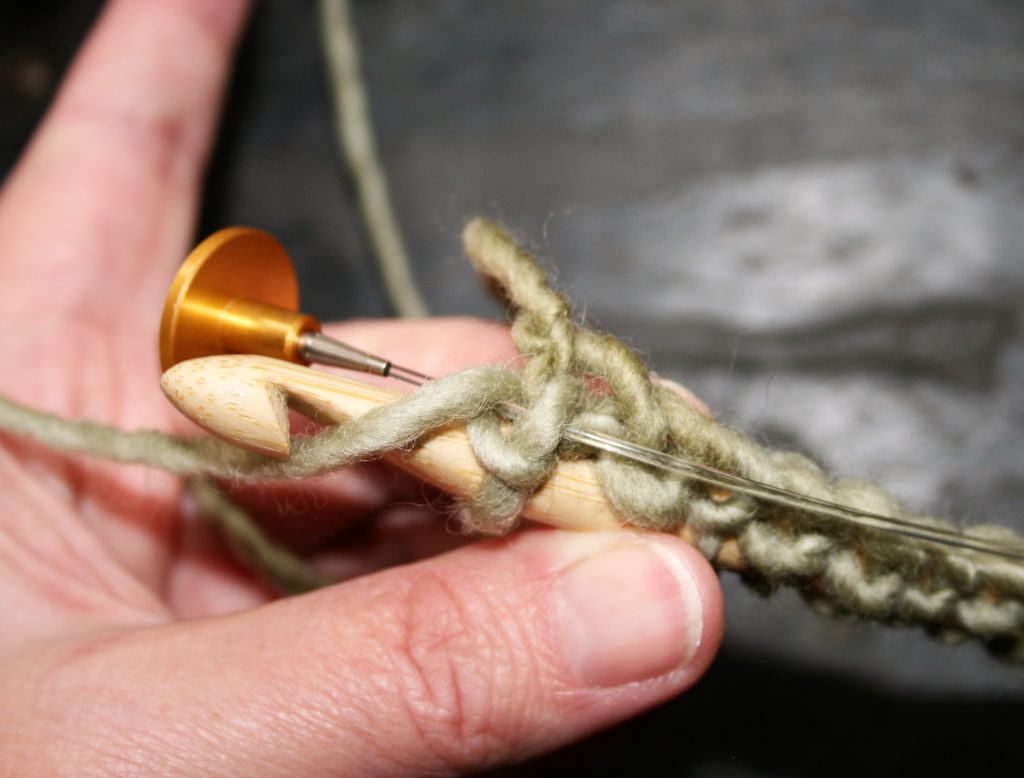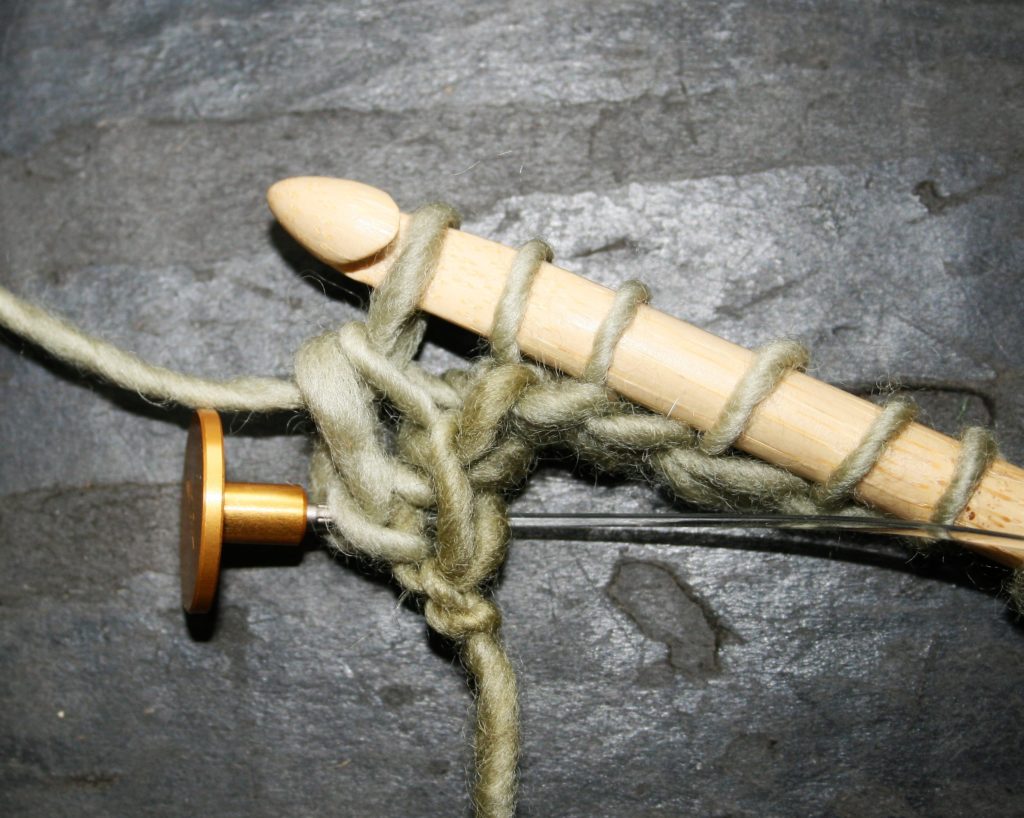 Finishing the Join
I now continue the Return Pass, by yarning over and pulling through 2 loops without working over the cable until 2 loop from the Forward Pass and the 2 added loops remain, (this will be 4 loops on the hook). Yarn over and pull through the last 4 loops.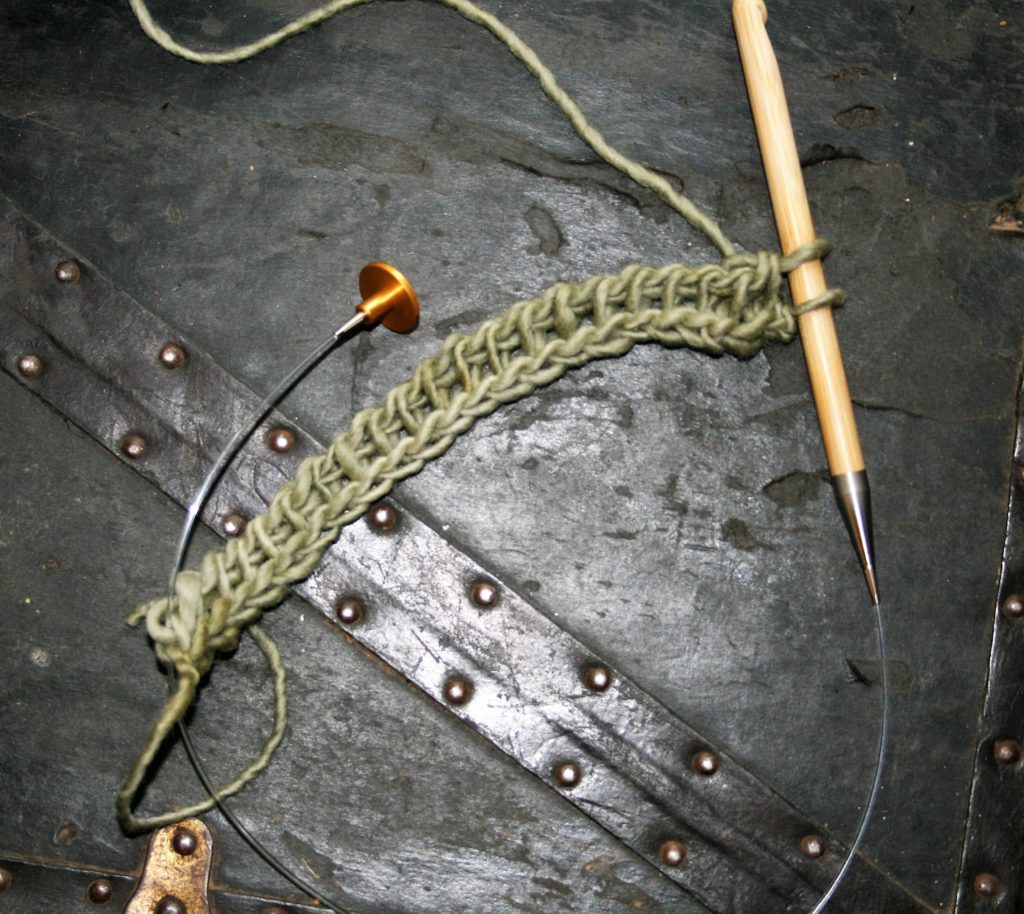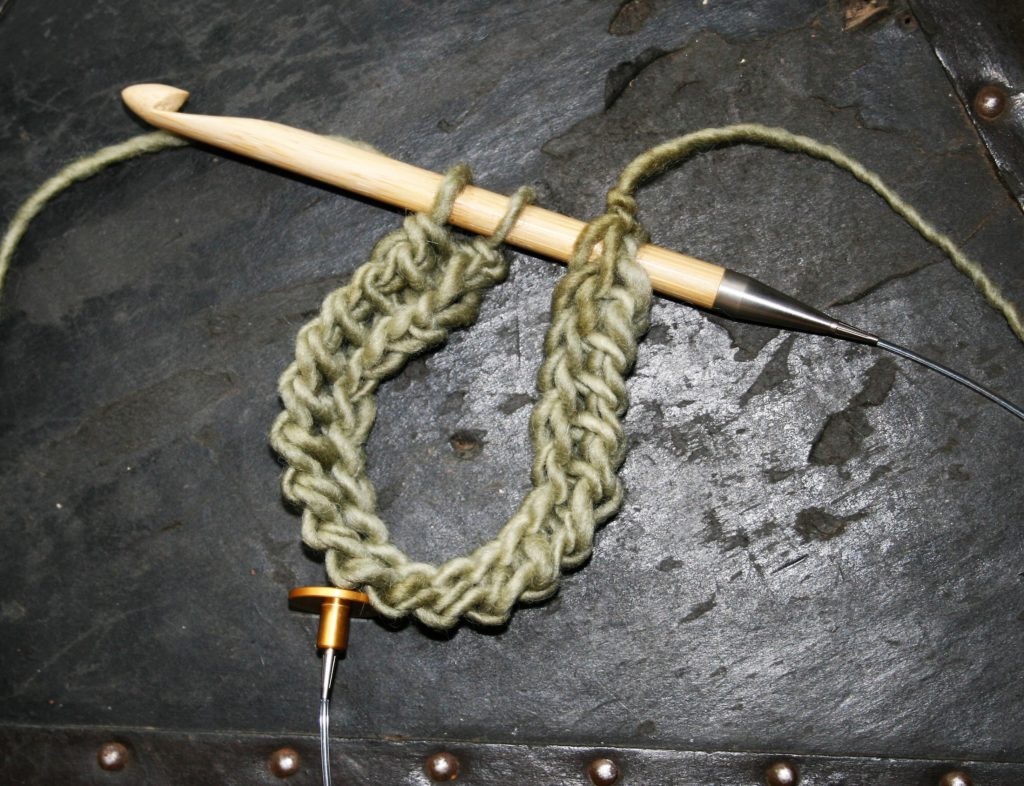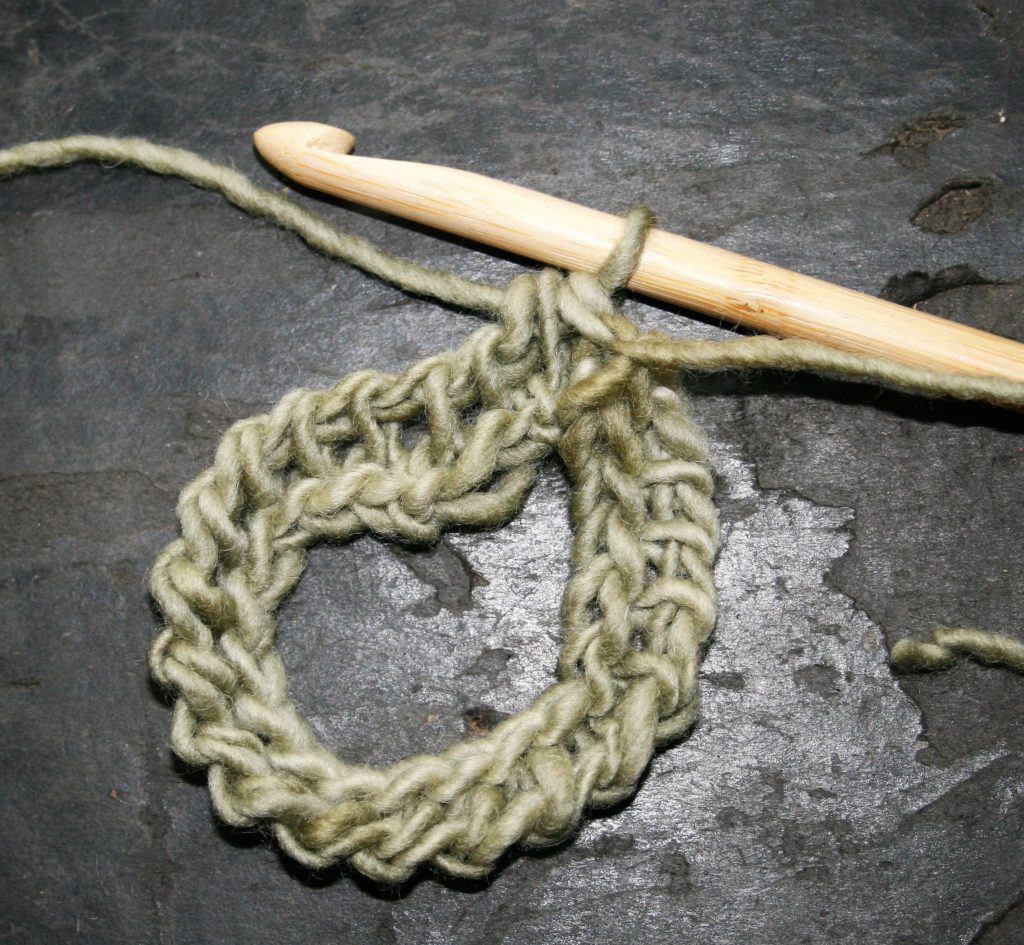 Work all subsequent round this way, and the fabric with be joined.
In some of the Tunisian stitches there may be some gapping at the join. I have found this with the Tunisian Full Stitch for example, but overall it is satisfactory to me. In addition as the fabric is joined in the Return Pass, during the very first Round the beginning chain is not joined, so when I weave in the ends, I use this opportunity to close this gap.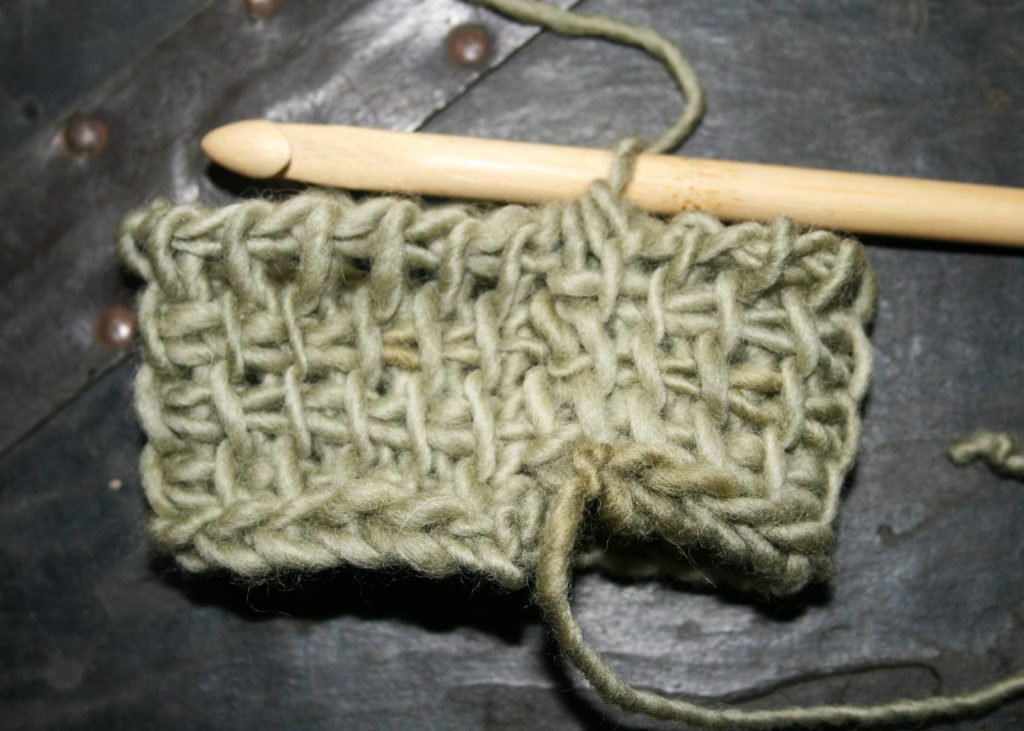 Tunisian Cup Cozy Pattern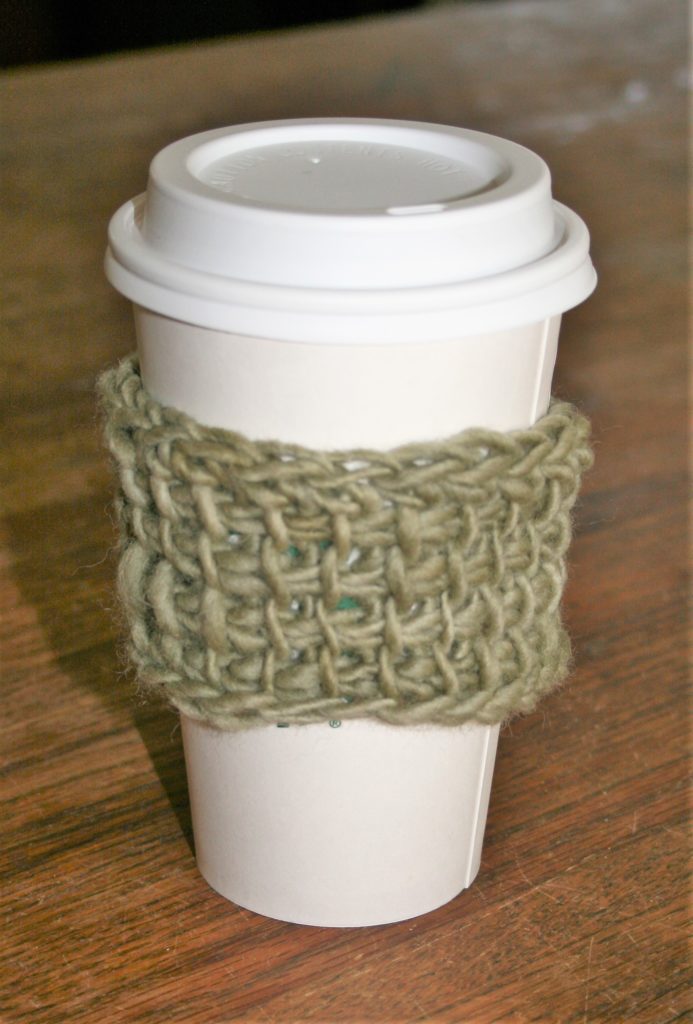 Materials
Any medium weight yarn
M/N (9 mm) Tunisian cabled crochet hook
Special Stitches
Tunisian Loop Return Pass (TLRP)– *Bring end of cable to working end of hook, bring working yarn to bottom of hook and in front of cable, loop working yarn under cable to top of hook,** YO, pull through a loop; Rep from * to ** once, YO, pull through 2 loops (2 loops added at end of row); (Yo, pull through 2 loops) until 4 loops remain on hook, YO, pull through 4 loops.
Tunisian Simple Stitch (Tss)—Working from right to left, hold working yarn behind work, insert hook under next vertical bar, yarn over and draw up a loop.
Getting Started
Rnd 1: Ch 23, load hook by inserting hook in next ch, YO, pull up a loop across. TLRP. -23 sts
Rnd 2 & 3: Tss in each stitch. TLRP.
Rnd 4: Sc in each st across. Fasten off. Weave in ends.