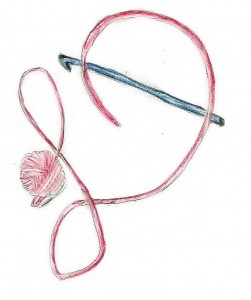 Creating a design that is both knit and crochet has its own set of challenges, one mainly being that I am not an expert knitter. However I have created a design with the help of a couple of friends that I think is pretty impressive.
The Dialog Shawl is created with short rows with alternating panels of a solid and lace fabric. It is a fun pattern to work up as it uses basic stitches but still keeps you mentally engaged, but not so much as to cause stress. The only difference between the knit and crochet version is that the panels of the crochet version are bigger and thus there are only 4 triangles instead of the 6 that are found in the knit version.
I love that this is a one skein project. It is featured in Baby Alpaca Silk Petite Yarn from Lisa Souza Dyeworks, and I definitely draw to the color of Peacock, but I think this design can easily worked up in various colors, and may look distinctly different and fabulous in a variegated yarn. This yarn is really awesome, and I have used it for several projects over the years. It is a light/fine weight yarn that has a beautiful hand and is a pleasure to work. I also feature a shawl pin with this design, it was after all part of the inspiration for the design, and it is actually a Shawl Button from Lickin Flames. Each Shawl Button is handmade, beautiful, and completely unique. The one that inspired me was a Raku button in Bronze with a shiny black accent.
I cannot say that I have ever been particularly inspired to create a design from a pin or button before, usually I attempt to create a design that can be worn independently of such items. However, recently I have come to see how this piece of art can really had to the overall effect of my crochet (or in part of this design, knit). It is like a subtle accent point that helps add to the overall effect, bringing everything to a new level.
Overall I am completely thrilled with this design, and I hope you enjoy it too. As is the case with all of my knit/crochet designs one pattern contains both versions, so if you are bi-stitchual you can work both versions, and if you prefer one craft over the other you have it right before you.