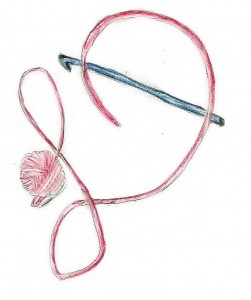 It seems like I am always saying that not all yarn is created equal….there is really so much that subtly goes into making yarn that it creates a large difference in how it works up in your final project. Tahki Yarns Vermont is a yarn that has some great quality that easily adds a little luxury to your project.
It is comprised of 50% Merino Wool and 50% Superfine Alpaca, since both of these fibers are have a small micron count (the diameter measurement of the individual fiber) this is a really soft yarn. The property of both of these fibers is one of working well to retain heat, so this yarn is warm. It also has a nice soft loft to it, allowing it to trap air, resulting in warmth as well. Even listed as a worsted weight, this yarn seems to be on the light side, but does work up well with 5-6mm hooks and needles.
This is an eight ply yarn, meaning it has eight individual strands that are spun together. This creates a nice and round yarn. That might sound odd, but when you ply strands of yarn together the actually shape is not perfectly round. Imagine twisting two ropes together, there are spaces where the ropes touch that prevent it from being a complete circle. So the higher the number of ropes the more of this gap that is filled in, making a more round yarn.
Typically the rounder a yarn the better it can highlight a stitches definition, that is true with Vermont. This yarn has a nice definition, the only distraction from the stitch itself is the marbled color of the yarn. All color options for this yarn look like natural colors, and are worked together in a manner that is reminiscent of tweed, but a bit more consistent. This makes for a very gender neutral color scheme, allowing it to be perfect for an item accepted my many.
The ball size is not that generous, on 93 yrds/85m per 1.75oz/50g, so one ball could probably complete a hat, but any other project would need to have a few more. Overall though, a very nice yarn, that will create a very treasured item. Due to the size I feel that this is a yarn best suited for accessories, a nice hat, gloves (fingerless or otherwise), or maybe a scarf. I could make a nice sweater, but the yardage needed would require many balls and might be price prohibitive.