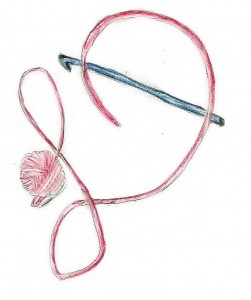 So, I have stated before that I really do not like to sew things together, well I also do not like to weave in ends. I do not think that I am alone in this. However that does not mean that I do not enjoy motifs.
I know it can sound a little bit of an oxymoron, as motifs usually mean sewing, and usually mean many ends to weave, but they allow for little subtle art pieces in a sense. They add a completely different movement in a sense, especially to throws. The classic throw or afghan, is very practical, full of purpose, and yet a handmade piece of art. People put quits on display, yet often many afghans can have their own beauty.
My latest design in the Autumn 2016 issue of Crochet! Magazine features a solid color motif throw. Shining Shells Throw, is worked in a solid color, worked join as you go, so that you have a minimal number of ends to weave and no sewing, all while offering a unique twist of shells. Essentially each motif is worked with you thinking that it is square, then the final round, you shift everything to turn it on point as a diamond. This definitely gives an interest in working the motifs, while adding a visual interest. The negative spaces created between the motifs add a nice lacy feel, yet do not distract from the overall feel of the piece. A modest edging ties everything together, allowing this throw to hold a place of interest in any place you put it, living room to bedroom, hammock to sofa.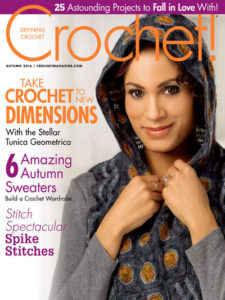 8The solid color also gives you the opportunity to really enjoy the way the stitches come together, the simple color leaves a bold statement, that may have been lost if it dancing in colors.