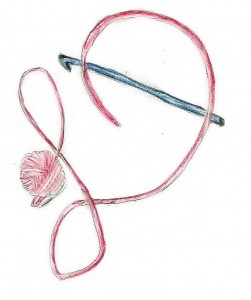 There are so many hidden wonders hiding in almost plain sight. I received a "Christmas in July" gift, even though it really was not intended that way.
I arrived home the other day to find my aunt at my doorstep leaving a box. She informed me that she was visiting some other family and that they were clean things out of their home and had several crochet patterns, so my aunt thought I could make them a good home. I definitely will.
Upon opening the box I found publications from the early 1900's with a wide variety of needle arts, as well as magazines from the 50's through 90's all featuring crochet. You can tell there was a concerted effort to find new and innovative techniques, as well as a fabulous collection of edging patterns.
You never know what you may find in an attic, a storage unit, or under the stairs. The love of crochet can be found in many places, I am fortunate that I have people in my life that realize that this love can continue in the hearts of others by finding them a new home. I just have to find more time in the day to explore all that I have received. They are so inspiring and show just how much the world and dimension of crochet has changed in its daily applications.
This will be a gift that keeps on giving!