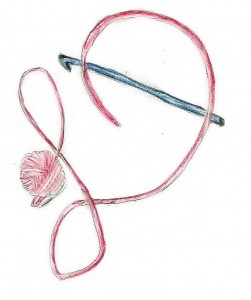 As the season warms and welcomes late evenings and barbeques, my crochet tends to become a little lighter (in fabric) and sometimes a little smaller (in projects). My latest design fits that bill.
In the June 2015 issue of Crochet World Magazine, you can find my Candle Shadows. Now , when I bought my home over a decade ago, it came with a root cellar filled with old canned goods (the "freshest" being over thirsty years, and the some with dates in the 1930's). So instead of just tossing all these old mason jars filled with over aged fruit, we have slowly cleaned them all up. Finding uses for them all is the more interesting undertaking.
You may remember from an earlier post that I turned some of the mason jars into pendant lights in my kitchen (if you missed it here, it is), some of the jars will be used as cups and center pieces at my sister's wedding later this year, and some I have enjoyed using as a little outdoor lighting with my latest design.
The principle behind the design is pretty straight forward, a stitch pattern that offers a nice negative space (for the light to shine through) and that repeats in just the right amount to come evenly fit around the jar. Then adding in some great color and there is a lot of fun added to my outdoor dinner (or maybe even my indoor bubble bath). Using battery operated flame-less votive candles makes them even easier to use, and safe for kids!