Crochet with Linda at the Winery, a new adventure. Just when I think life should be settling into a rhythm, a new idea spices things up! I have spent the beginning of 2019 traveling and teaching, and just as I set my schedule for teaching at my local yarn store I add in something new….retreats!
I am offering the first of several retreats Thursday, August 29, 2019 from 10:30-4, just south of Placerville, CA.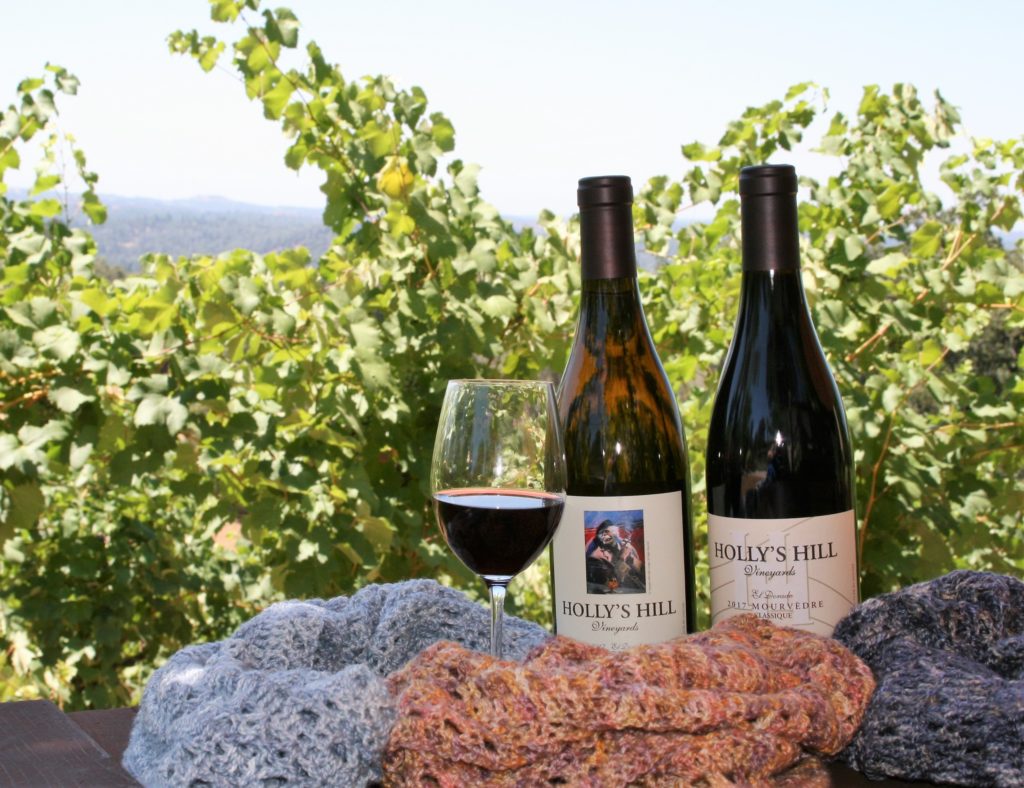 I have been imagining these retreat events for quite a while now. An event that engages skill building with inspiration, in a great setting, with great materials. And maybe doing something that you have always meant to do. This one in just a few weeks, definitely fits that build!
The Skills and Project
Sometimes gaining skills at a Beginner, Intermediate and Advanced levels can be a challenge. This unique design and pattern has been created to do allow skills to be built and advance your skill. The same stitch pattern utilizes three different ways to create a cowl. Beginning level works the cowl flat, while intermediate works in the round, and still advanced works in the round moebius from center out. The cowls are wide enough to be hooded, and with just enough lace work to allow this cowl to be worn in many seasons.
The Location
A family owned and operated winery, in a beautiful setting. Holly's Hill overlooks the north fork of the Consumnes River Valley, and features French style Rhone Wines. The Co-Winemakers, the husband and wife team of Josh and Carrie Bendick, have a hand in every aspect of the process. They use old fashion techniques to create these Rhone-style wines. We are fortunate enough to have an exclusive tour of the winery. While learning about the wine making process from the experts. In addition you will get to sample a variety of wines in a tasting, while relaxing and enjoying the beautiful view.
The Materials
We will let a fingering weight superwash merino and bamboo yarn flow through our fingers. Lisa Souza Timaru Sport is a luscious yarn that has a coolness to the touch and a beautiful shimmer. Three hand dyed colors available to choose from, a warm, neutral and cool color, which offers a bit of something for everyone. Lisa is known for her gorgeous colorways of yarn, and these will not disappoint. Hooks will be provided (beautifully turned wood), but if you have a preferred hook in your set, please feel free to bring your size G/6/4.00mm.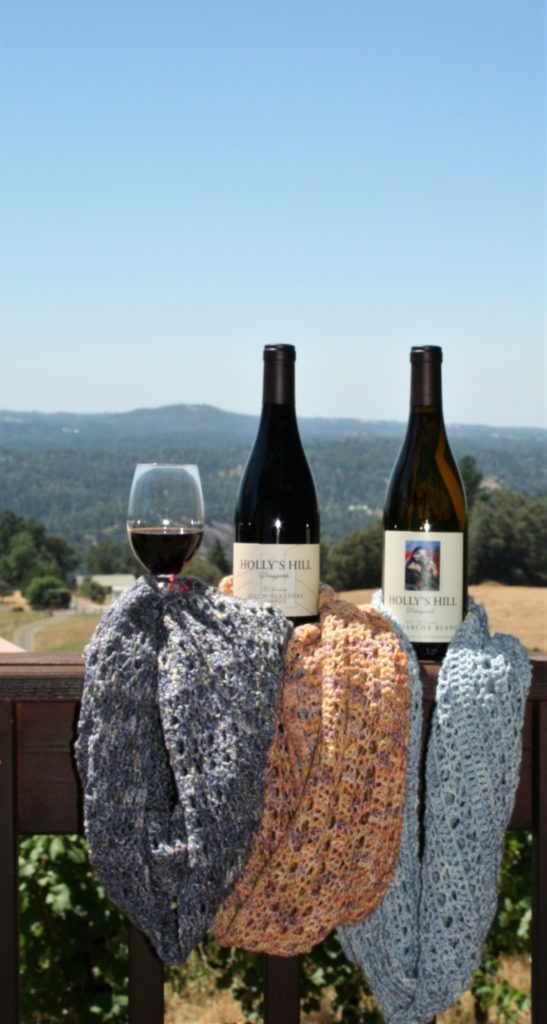 Enjoy gourmet box lunch, also included. No pepperoni pizza here. There are menus are being worked up with locally renowned restaurants to provide a day that allows everyone to feel pampered and valued.
As the final outlines of this event are being worked up, plans are well underway for another in October. If you want to be kept abreast of these new retreats, please sign up for my newsletter. Want to attend this event, register here.
I hope to see you soon, and will keep you posted on this new adventure!