I need crochet bag handles. Crochet bags have one hurdle for me, finishing them with handles. There are many great handles out there, I could easily purchase leather strapping or wooden rings or traditional purse straps. I could even head to the thrift store and find a cheap handbag that I love the handles on, and cut them off for my bag…but there is a common theme in these approaches; I have to go and get something.
This "final step" is my constant hang up. It is bad enough that I have to weave in the ends; just this step can leave an item sitting in a pile for a while. So, finding a handles solution that does not become a "final stage" has been paramount to my actually completing these projects.
I have come up with 3 crochet bag handles that fit my needs very well. Ones I could actually make and attach are the requirements. Added to these requirements are the need that they not be flimsy and don't stretch too much.
The first is make it a Tunisian crochet bag handle.
Tunisian crochet fabric, under certain conditions curls. I have taken this trait that is often seen as a deterrent and turned it into a benefit. To create this handle, I simply create a chain for the desired length of the handle using a Tunisian hook size that is a bit smaller then I would normally use (this ensures that the fabric curls). Then I work 3-5 rows of Tunisian Simple Stitch. The fabric should be curling up on itself. I then decide to seam the strip together of not. I might even insert a bit of clothes line and let the fabric wrap around it. Attach it to the bag.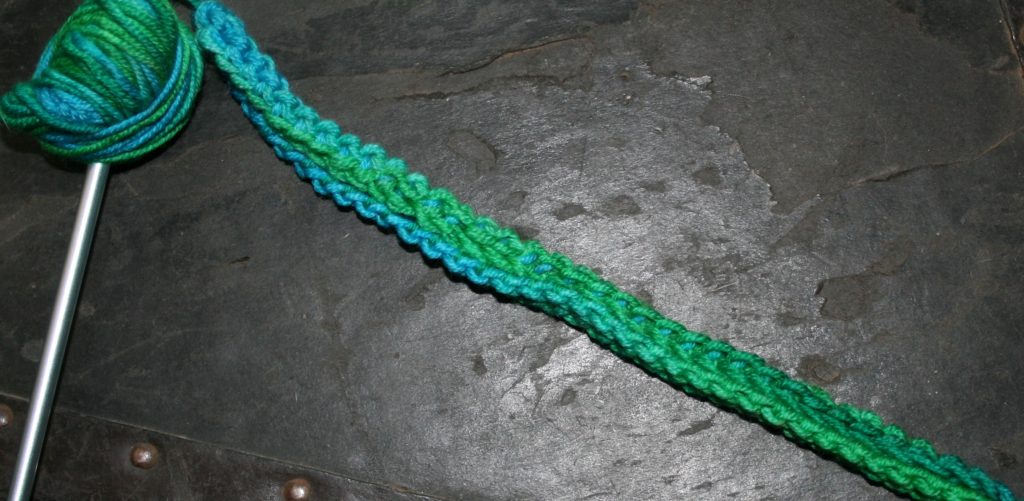 The second is make it a braid crochet bag handle.
For this approach I create a chain that are about 3 inches longer then I would like the handle and work a single crochet in each chain. Make 3 of these single crochet strips. Pin the 3 strips together and braid them together, placing a pin at the finished end. Then attached this handle to the bag.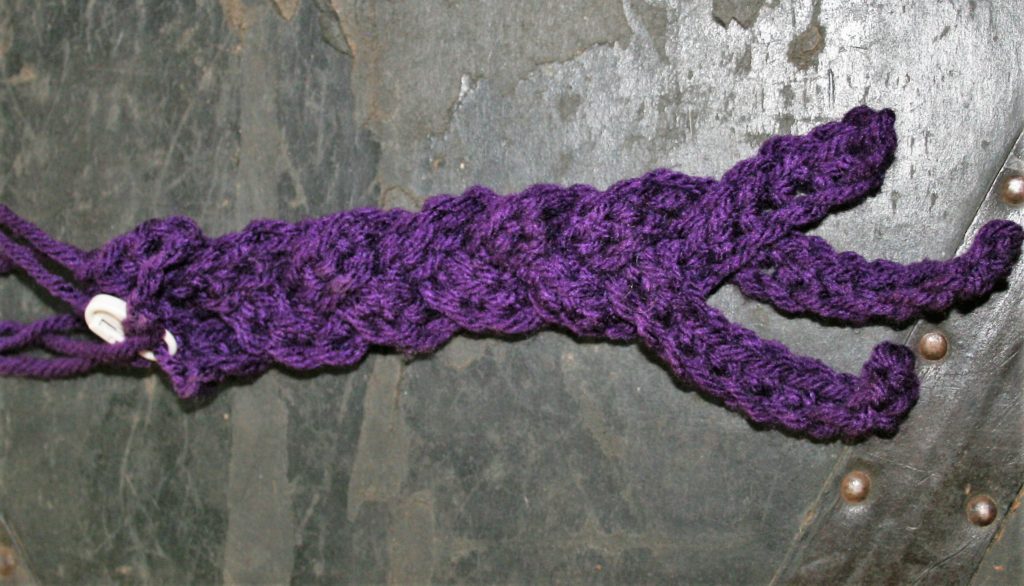 The third is make a chained chain crochet bag handle.
In this process you create a chain three times longer than you would like the handle. I don't fasten off this chain as I may want to add to it to lengthen the handle as I work. Take a larger hook and then use the newly created chain as a "yarn" and create a chain with it. This creates a heavier rope appearance handle. Attach it to the bag.
These three types of handles have helped me finish up projects, then I only have to weave in the ends.