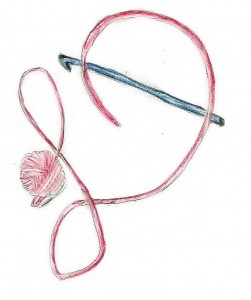 The temperature has begun to heat up in my California mountains, so I picked up a yarn that I knew would give a little less warmth then others in my stash. I chose a merino, linen blend yarn. This means that it has a fine, or soft, wool combined with a plant based fiber that has been around for thousands of years.
Linen is created from the stalk of the flax plant. The stalk is essentially long strands that are held together by a "glue" that is created by the plant. The "glue" is dissolved, in years past it was done with a fermentation process, the stalk was placed in a watery solution and allowed to rot. This broke up the "glue" and allowed the long, fine strands to be gathered and spun into a yarn. Once it was turned into a yarn, it was called linen.
There are certain characteristics with linen. It actually repels dirt and is stronger when wet. If it gets wet and dries quickly, but it does wrinkle easily. There is a particular luster quality, and is cool to the touch. This definitely fits the description of a summer yarn to me.
The yarn I picked up was Milo by Manos Del Uruguay, it is 65% merino and 35% linen. Offering a generous 380 yards/350meters, for a 3.5 oz/ 100 gram hank, in a super fine weight yarn. Honestly it does not remind me of a super fine weight, or lace, it seems to have a bit more body then that and I feel comfortable working it up on a 4-5mm crochet hook. It has a nice feel in the hand, and definitely has that "linen luster" quality.
After washing it actually becomes softer, and I feel it will make a great shawl, but it could work into a nice camisole, or wrap. I think the fiber blend is really at a point of mutual benefit. The is just enough merino to allow for strength while being balanced with enough linen to give it a interesting and stand out quality. This one will do well on my hook and I look forward to seeing what it will become.